Budget Billing
Budget Billing gives you more predictable energy bills by balancing seasonal high and lows, taking the guesswork out of your monthly bill. Once signed up, you'll pay a similar amount every month - making budgeting and planning much easier. Benefits of Budget Billing include:
It's predictable - you always know what your bill will be
It helps you stay on budget
The program is free, and you'll only pay for the energy that you actually use

Budget Billing from PNM, it's a smarter, easier way to manage your energy bill.
How it works
You still pay for all of the energy you use, but your total costs are spread evenly throughout the year. Budget Billing amounts are evaluated twice a year, usually in February and August, and may go up or down based on your actual usage and updated energy costs.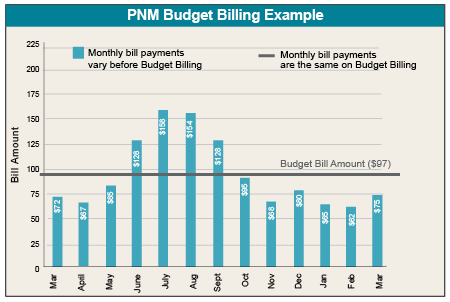 You can discontinue Budget Billing at any time. If you have paid for more energy than you have used, we'll credit your next bill. If you've used more energy than you've paid for, it will be added to your next bill.
Who is eligible?
Your account must be current to sign up for Budget Billing online and we recommend having seven months of energy usage history at your service location.
If your account is past due, you may still be eligible. Call us at 888-DIAL-PNM for additional consideration.
FAQs: Budget Billing
Is Budget Billing right for me?

Budget Billing allows customers to balance their budgets easier. If seasonal energy bills impact your budget in the high usage months, and you¿re able to pay your bill every month, you¿re an excellent candidate for Budget Billing.

Do I receive discounts on my energy bill for being enrolled in the Budget Billing program?

No, those enrolled in Budget Billing still pay for the energy they use.

My Budget Billing payment amount increased, why?

Budget Billing payment amounts are evaluated twice yearly. If you have been using more energy than usual over the past year your bill will increase as a result.

What if I have used more energy than I¿ve paid for and cancel Budget Billing?

The overage will be added to your next bill. If you have used less, you will receive a credit.

How is my Budget Billing payment calculated?

Your Budget Billing payment is based on two primary factors, your service location¿s energy use for the last year and estimated costs for the upcoming year. It's best if you have an established history at your service location so we can accurately calculate your projected usage and Budget Bill amount.

Where can I find my actual usage?

Your monthly bill will still show your actual usage and charges just as you're used to. On page two, you'll see a section titled "Your Budget Bill" which details your Budget Bill balance. If that amount is negative, you've paid for more energy than you've used. If that amount is positive, you've used more energy than you've paid for. Click here for a full breakdown of your PNM bill