Reliability
At PNM, reliability is more than a word. It's the foundation for everything we do.
Over half a million customers depend on us for electricity, and we are committed to delivering safe, reliable power to you. We are constantly investing in upgrading and modernizing our system, as well as performing regular maintenance to ensure we can meet your needs today and in the future.
Below is additional information on some of the ways PNM invests into upgrading and maintaining our system.
Upgrading and Expanding our System
Maintaining reliability is an ongoing process, and PNM is constantly investing to ensure that our thousands of miles of transmission and distribution lines, and hundreds of substations are able to continue to provide the electricity you rely on. The map below shows some of the larger current investment projects that PNM is working on to help maintain and improve service to customers. As other projects begin, those will be added to the map as well. Each project is represented by the bucket truck icons you see below. Simply click on the icon to learn more about each project.
Just like your car, we perform routine maintenance on our system to repair or replace electrical equipment, and add upgrades to our facilities as needed, to keep your power flowing safely and reliably.
There are several key types of projects you may see our crews working on, including:
Cable Testing & Replacement
As we test underground electric cable, we may identify areas in which we need to replace older cable. In some cases, we may need to dig holes and use a directional bore to dig a horizontal hole for the new cables. By testing these cables we can identify the areas that need repairs or upgrades, which helps to maintain power quality and reliability to your homes and businesses.
Pole Replacement
We also inspect poles around our service area, repair the ones that need fixing and replace poles that may be older or do not meet our standards. This is part of our ongoing commitment to deliver service you can count on. Sometimes these projects are along a street or highway, and other times, they are in a customer's backyard. Regardless of location, our crews are committed to safety for the crew and any nearby people, property and animals.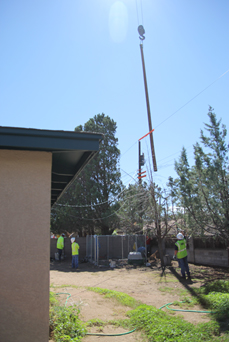 Transformer Replacement
You probably see transformers all the time without even realizing it. They are the green boxes that line streets and provide power to a group of homes or businesses. We inspect and replace these transformers as needed so that it continues to perform reliably. This work may require a scheduled outage in order to guarantee the safety of our crews.
Line Extension
The communities we live and work in are constantly expanding. As more homes and businesses are built, and the demand for electricity increases, we may extend or add lines to continue to provide reliable power to customers.