Reliability
At PNM, reliability is more than a word. It's the foundation for everything we do.
Over half a million customers depend on us for electricity 24 hours a day, seven days week - whether the sky is blue or the rain clouds are overhead. We are committed to delivering it reliably and safely. In the coming years, you may see us at work expanding and upgrading our system as well as performing regular maintenance to ensure we can meet your needs today and tomorrow.
Delivering that level of reliability is not easy, but that is why our employees work day in and day out to ensure that you have the power you need to live, work and enjoy your life. PNM is consistently ranked in the top quartile of all utilities for our continuously reliable service.
But that reliability is something people may take for granted because whenever they flip a switch, the lights come on. So we thought we would share a little about how we upgrade and maintain our system for you.
Upgrading and Expanding our System
Did you know that if you set all of our transmission and distribution lines end to end, it would be the equivalent of 3.5 round trips to New York City?
Maintaining high levels of reliability is an ongoing process. We are constantly at work to ensure that those 14,338 miles of transmission and distribution lines and our 276 neighborhood substations are able to continue to provide the electricity you rely on.
Just like your car, we perform routine maintenance on our system to repair or replace the components that are at risk of failure, as well as to identify the parts that can be extended, to keep your power flowing safely and reliably.
We recently started using digital signs like the one to the right when we are working in a neighborhood to let residents know what we are doing. They won't be on every project, but when you see
them, you will know that we are upgrading and enhancing the system in that area to ensure consistent reliability.
There are several key types of projects you may see our crews working on, including:
Cable Testing & Replacement
We have been regularly testing underground electric cable around the state. This work may involve us returning in the next six to 12 months to replace cable that tested poorly. In some cases, we may need to dig holes and use a directional bore to dig a horizontal hole for the new cables. This work is being done because as our system ages, the original cables installed begin to fail. By testing these cables we can identify the areas that need upgrading - hopefully before there are reliability problems.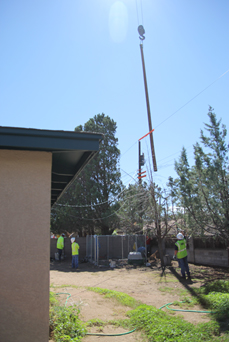 Pole Replacement
We routinely inspect poles around our service territory and repair the ones that need fixing and replace the ones that do not meet our standards. This is part of our ongoing commitment to deliver service you can count on. Sometimes these projects are along a street or highway, and other times, they are in a customer's backyard. Regardless of location, our crews are committed to safety for the crew and any nearby people, property and animals.
Pole replacement in a customer's backyard
Transformer Replacement
You probably see transformers all the time without even realizing it. They are the green boxes that line streets and provide power to a group of homes or businesses. These transformers are also routinely inspected and replaced to ensure the equipment continues to perform reliably. This work requires a planned outage in order to ensure the safety of our crews.
Line Extension
As more homes and businesses are built, and as current customers use more electricity to power their lives, we are called upon to extend lines to provide uninterrupted service to a neighborhood. These are commonly necessary when several people on a block convert from evaporated air to refrigerated air as well as when new homes and businesses are built.