Business Events & Webinars
Join us for the PNM Energy Solutions Webinar Series
We are here to help by providing you with useful information, tools and resources for your business. We are hosting a series of webinars this year that will cover a range of topics that may be of interest to business customers . We hope you¿ll join us for a few or all of them. Join the discussion!
---
Copper Theft Awareness
November 12, 2020 | 2:00 pm - 3:00 pm
Copper theft continues to be an issue every year because high copper prices entice criminals to steal metals from businesses, scrap sites, and utilities. In this webinar you will learn about the tools, resources, and deterrent measures that are available to help prevent copper theft at your business.
Presenters:
Manuel Quintana, PNM Sr. Account Manager
Armando Najera, PNM Work Management & Distribution Standards
---
Past Events and Webinar Presentations
Are you looking for the presentation from a webinar you attended or couldn't make the webinar and want to catch up? You're in the right place. Here you will find webinar presentations that we have hosted throughout the year.
Power Outage Preparedness - July 23, 2020
Listen to recorded webinar - Power Outage Preparedness recorded webinar - Password: DxJEd4cM
---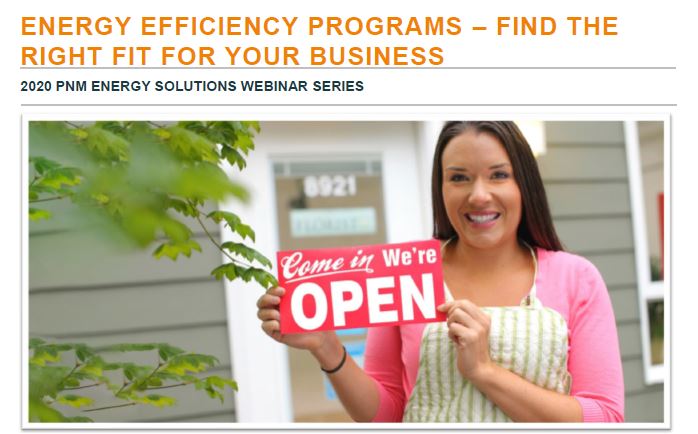 Energy Efficiency Programs - Find the right fit for your business - August 20, 2020
Listen to recorded webinar - Energy Efficiency Programs webinar - Password: 6Wd4JMY3
---
Electric Vehicles for Your Business - An introduction to transportation electrification - September 17, 2020
Listen to recorded webinar - Electric Vehicles for Your Business - Password: 3hQCPbSC
---
Understanding Your PNM Bill - October 22, 2020
Listen to recorded webinar - Understanding Your PNM Bill - Password: 3Khes5mU