PNM Energy Solutions Webinar Series
As a valued PNM business customer, we're always here to help by providing you with useful information, tools and resources that will help your business save energy, money, or streamline operations. This year, we plan to cover a range of topics that may be of interest to business customers like you. Below is where you can access the presentations we have shared so far this year.
---
The PNM Small and Mid-size Business Fair
PNM will host its inaugural Small and Mid-size Business Fair on Tuesday, May 23 at the Marriott Uptown in Albuquerque from 1 to 5 p.m.
This fair will provide our customers the opportunity to learn about the PNM programs that could help your business such as Energy Efficiency, Electric Fleet Vehicles and more.
You will also be able to meet with representatives from PNM to address your questions and meet your needs and help your business.
Light refreshments will be served during the event with a happy hour starting at 5 p.m. We look forward to seeing you there!
2024 Rate Change Webinar
The primary purpose of this webinar is to provide our customers with information regarding an important PNM filing, the 2024 Rate Change. The content in this webinar will help you gain a better understanding of our rate review, what we are asking for and how it will impact your business. In this webinar, we discuss:
How rate reviews work
What is PNM asking for in our upcoming 2024 Rate Review and what we are investing in
Rate review timelines and when you could expect to see an increase on your bill
Potential bill impacts based on our filing with the New Mexico Public Regulation Commission (NMPRC)
And much more.
Learn how to apply for a NM Gross Receipts Tax Exemption or Deduction.
PNM customers may qualify for a New Mexico gross receipts tax exemption or deduction on their electric bill by submitting the required documentation to PNM. In this webinar, we shared important information and showed you how to apply for the following:
Type 12 NTTC - Sales of electricity to a Manufacturer

Type 9 NTTC - Sales of electricity to a 501 (c) (3) Nonprofit Organization or Governmental Agency

Native American Tax Form - Sales of electricity to a tribal member within tribal boundaries
---
PNM New Service Delivery application process and the improvements made for a better experience.
PNM has recently updated the New Service Delivery Commercial Application and Project Workflow to PowerClerk - a cloud-based automation service. PNM customers now have the ability to utilize Power Clerk functionality to review their project status and pertinent information 24/7.
Download New Service Delivery presentation
---
Past Events and Webinars
Are you looking for the presentation from a webinar you attended or couldn't make the webinar and want to catch up? You are in the right place. Here you will find webinar presentations that we have hosted throughout the year.
Grid Modernization Webinar - May 5, 2022
Listen to recorded webinar here!
Password - GridMod2022#
Power Outage Preparedness - July 23, 2020
Listen to recorded webinar - Power Outage Preparedness recorded webinar - Password: DxJEd4cM
---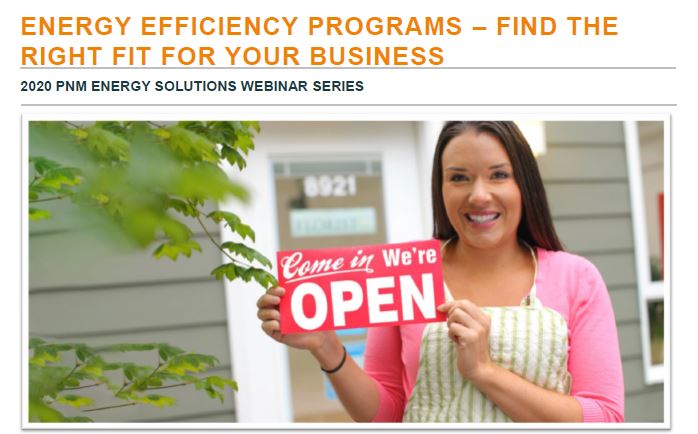 Energy Efficiency Programs - Find the right fit for your business - August 20, 2020
Listen to recorded webinar - Energy Efficiency Programs webinar - Password: 6Wd4JMY3
---
Electric Vehicles for Your Business - An introduction to transportation electrification - September 17, 2020
Listen to recorded webinar - Electric Vehicles for Your Business - Password: 3hQCPbSC
---
Understanding Your PNM Bill - October 22, 2020
Listen to recorded webinar - Understanding Your PNM Bill - Password: 3Khes5mU
---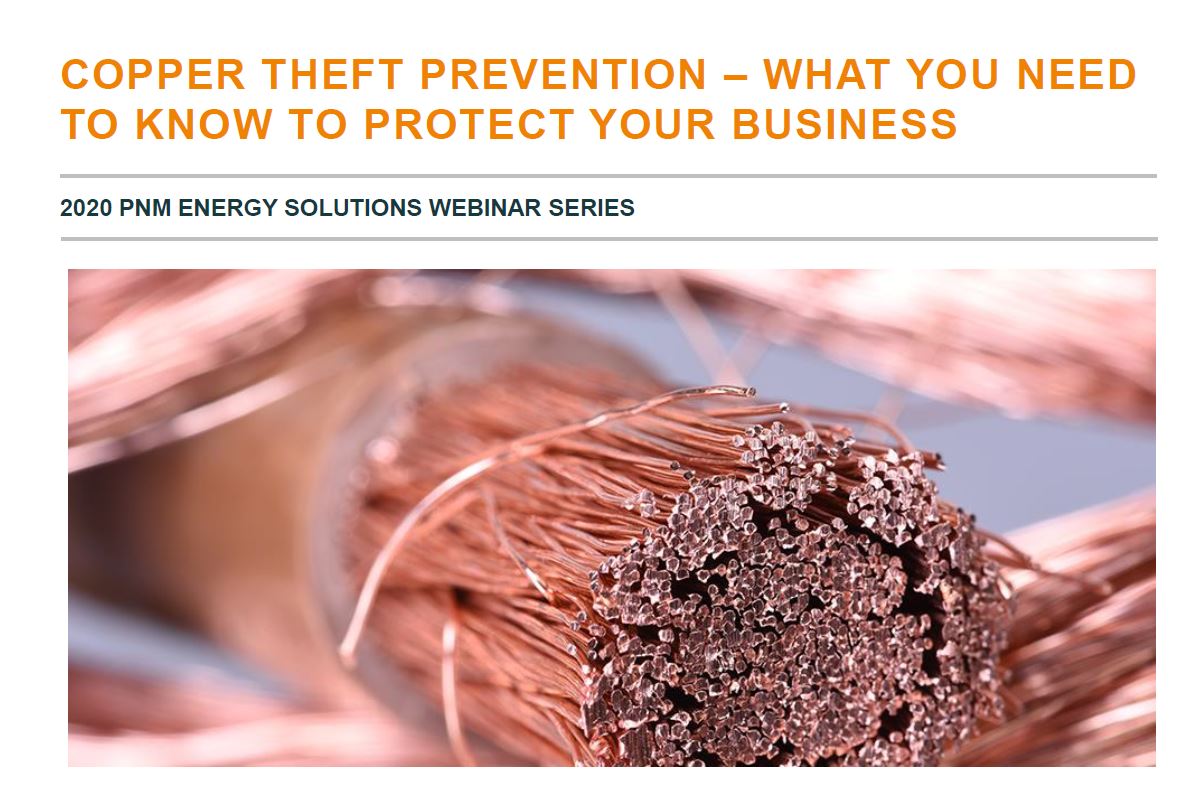 Copper Theft Awareness and Prevention - November 12, 2020
Listen to recorded webinar - Copper Theft Awareness and Prevention - Password: jJDbBw6M