Wildlife Protection
Watch the award-winning documentary, Power for Pollinators, which explores how power companies are uniquely positioned to use right of way corridors and buffer zones to create pollinator habitat.
At PNM, we take our commitment to the environment and efforts to protect New Mexico's wildlife seriously.
Pollinators
Pollinators are rapidly declining and are essential to ecosystem function. The Monarch butterfly is listed on the International Union for Conservation of Nature red list and is a candidate for listing as threatened by U.S. Fish and Wildlife. Other pollinator species, such as the bumble bee, have recently been listed as threatened or endangered.
To address these concerns, we are launching a new Pollinator Program as part of our 5-year plan to fully implement pollinator friendly practices at PNM. We are currently in the planning and researching phase for the first year of the program.
Through our Pollinator Program we will:
Assess pollinator habitat in New Mexico.
Track vegetation composition over time.
Gather this baseline data to integrate best practices that benefit pollinators into existing programs and activities.
Other initiatives include:
Educational programs focusing on pollinators and power.
Pollinator friendly landscaping and maintenance standards.
Increased protection of native habitat during construction projects, including planting pollinator species when reseeding after construction projects.
Pollinator plant seed packet giveaways.
Habitat restoration work and research.
The Pollinator Program supports practices to preserve native habitat and aligns withfederal initiatives on infrastructure development, species protections and habitat and land conservation
Learn more about Pollinators by joining the EPRI Pollinator Power Party, a yearly event sponsored by PNM Resources to celebrate pollinators and by watching the award-winning documentary, Power for Pollinators. Power for Pollinators explores how power companies are uniquely positioned to use right of way corridors and buffer zones to create pollinator habitat.
Avian Protection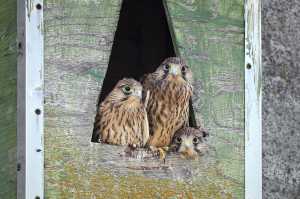 A family of Cooper's Hawks taking advantage of a human-made cavity for nesting.
To deal with the problem of electricity-related bird deaths and outages caused by birds coming into contact with equipment, we at PNM created our Avian Protection Program in 2006. Efforts to bird guard PNM equipment and install avian safe structures have paid off. PNM offers educational programs and installs habitats on power poles to help in that effort.
Avian protection in action: PNM installed bird guarding on a transmission line in Tijeras, N.M. Prior to the bird guarding, there were 78 bird or animal-related incidents over several years. After bird guarding was put in place, the number of incidents was reduced to only two the following year.
More than 5,000 poles have been bird guarded since 2010. Since 2014, PNM has spent more than $9 million to make distribution poles avian safe. The cost to bird guard a structure is dependent upon the location, the necessity to plan an outage to bird guard, the aerial equipment located on the pole, and the pole configuration.
The PNM Avian Protection Program focuses on several key areas including:
Identifying high risk electric structures for bird deaths and proactively bird guarding these facilities through best practices ranging from covering exposed wires and equipment bushings to covering conductors where spacing is inadequate.
Making bird guarding a part of routine electric facility maintenance.
Designing and constructing all new lines and other facilities with avian protection in mind.
Using a Geographical Information System reporting system to track bird mortalities on the PNM electric system and automatically generating bird guarding work orders.
Implementing "Hot Wings" that focuses on the use of avian safe structures in the most sensitive avian areas such as along the Rio Grande and all rural areas.
Implementing mandatory avian protection training every two years for PNM transmission and distribution employees.
PNM is the founder and ongoing sponsor of the New Mexico Avian Protection Working Group, in conjunction with Hawks Aloft, New Mexico Game and Fish, the Rural Utility Service and the U.S. Fish and Wildlife Service. The group trains co-ops and other energy companies throughout the Southwest region on avian protection best practices.
PNM is a charter member of the Avian Power Line Interaction Committee (APLIC), a national organization of utility industry biologists and standards engineers, and the U.S. Fish and Wildlife Service. APLIC has developed and published Suggested Practices for Avian Protection on Power Lines, which reflects the state-of-the-art practices used in avian protection.
Avian protection efforts have co-benefits in the protection of terrestrial species, as well. Cover-up material can protect ground species such as squirrels, raccoons and rabbits from electrocution.