Emissions & Water Usage
Reduction of Emissions from Coal-Fired Electricity


At PNM, we are taking action to protect our environment and conserve our natural resources while building a clean, secure and sustainable energy future.
We have made, and continue to make, significant investments to reduce the environmental impact of delivering power while minimizing the cost to our customers. Through our resource planning, PNM will achieve dramatic reductions in carbon emissions and lead us to a clean portfolio of electricity generation.
We will:
Attain our goal for our electricity generation to be 100% carbon-free by 2040, five years ahead of the New Mexico state carbon-free mandate.
Plan to exit all coal generation by the end of 2024, seven years earlier than previously planned.
Eliminate emissions from natural gas generation and actively pursue the development of carbon-free replacement power.
PNM has significantly reduced emissions over the past 15 years through investments in pollution control technologies, the increased use of renewable energy and the development of energy efficiency programs for our customers.

This chart demonstrates the 2025 and 2035 milestone goals in becoming 100% emissions free by 2040. The percentage of reduction in carbon dioxide (CO2), nitrogen dioxide (NOx), and sulfur dioxide (SO2) emissions is based the differences from 2005 emission levels.
The Connection Between Energy and Water Is Significant
Operating in the arid Southwest, we understand the importance of protecting scarce water resources. That is why our power plants have implemented some of the most innovative water conservation technologies in the industry, such as using treated city wastewater to meet plant process cooling needs. And it is why we have set a goal to reduce freshwater use 80% by 2035 and 90% by 2040 from 2005 levels as we shift our portfolio to carbon-free resources.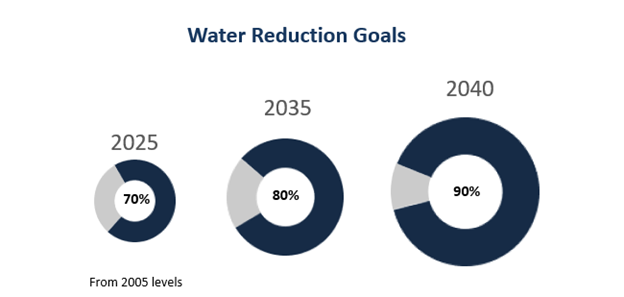 Managing the risk of water scarcity is central to how we plan and work. PNM has well-established procedures to minimize our water use and plans to manage water needs in case of drought.
Measures we have implemented include:
Water balance audits to identify inefficiencies or alternate operations to reduce water consumption.
Shortage Sharing Agreement among key water users on San Juan River.
Installation of air-cooling technology at our Afton gas plant to minimize water use.
As we shift our resources away from coal to zero-carbon emission resources, we will dramatically reduce the amount of water used to generate electricity.