PNMR-MyPersonalInfo-portlet

Web Content Display
PNM PowerSource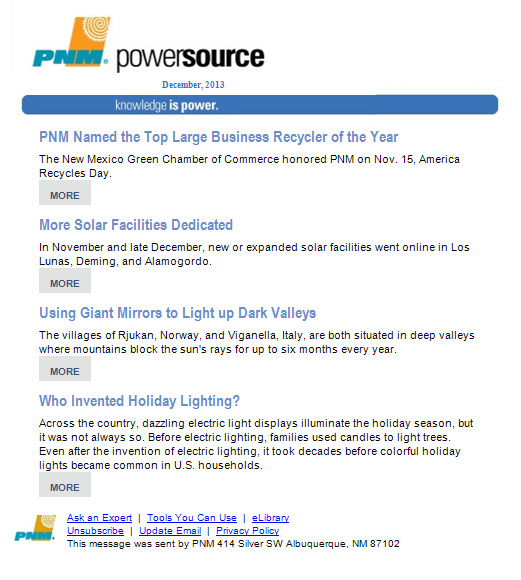 PNM PowerSource is a monthly e-mail newsletter for businesses and decision makers. Each issue features articles on a variety of energy-related topics in an easy-to-scan format so you can choose the stories that interest you.
Read articles from the most recent issue
Have a more specific interest or question? Your subscription also gives you access to free research with "Ask An Expert." You can ask our experts almost anything from technical, to problem solving question, to emerging trends for businesses. Plus there's an e-library full of articles and more than a dozen tools for assessing your facility, benchmarking, lighting and more.
The energy industry is changing and we want to help you stay up to speed on issues that affect your business and your customers.
To sign up, complete the short online registration form below. You can unsubscribe anytime, and we'll never sell or give your information to anyone.