Business Refrigerator & Freezer Recycling
The Refrigerator Recycling Program helps our business customers who manage business offices, office complexes, multifamily residences, or any other business operations by disposing an old refrigerator or freezer that is contributing to high energy use which results in higher energy bills. PNM properly recycles 95 percent of the unit so it doesn't end up in a landfill. By letting PNM recycle your units, you're helping to prevent the release of ozone-depleting substances, greenhouse gases, PCBs, mercury, batteries, and oil into the environment.
Getting started is easy - Schedule your appointment
Contact us at 877-838-1139 or schedule a pick-up date online

How the recycling program works.
After you schedule your appointment, we will pick up your old fridge or freezer and haul it away to be recycled responsibly. Recycling your fridge or freezer helps keep old, inefficient appliances off the grid and because PNM recycles 95 percent of the unit, they don't end up in a landfill and you're helping to keep harmful elements out of our environment. We handle all the paperwork and send you a check in about four to six weeks.
Check if your old refrigerator or freezer is eligible for the rebate.
You must be a PNM customer and own the refrigerator or freezer.

The refrigerator and/or freezer must be a regular household sized unit (10-30 cubic feet in size).

The refrigerator and/or freezer must be in working (cooling) order, emptied of all food and beverages and plugged in at the time PNM comes to pick up the unit.

Dorm-sized refrigerators do not qualify.

Remove an older, secondary refrigerator and you could save about $175 annually on your electricity bill.
Reasons to recycle.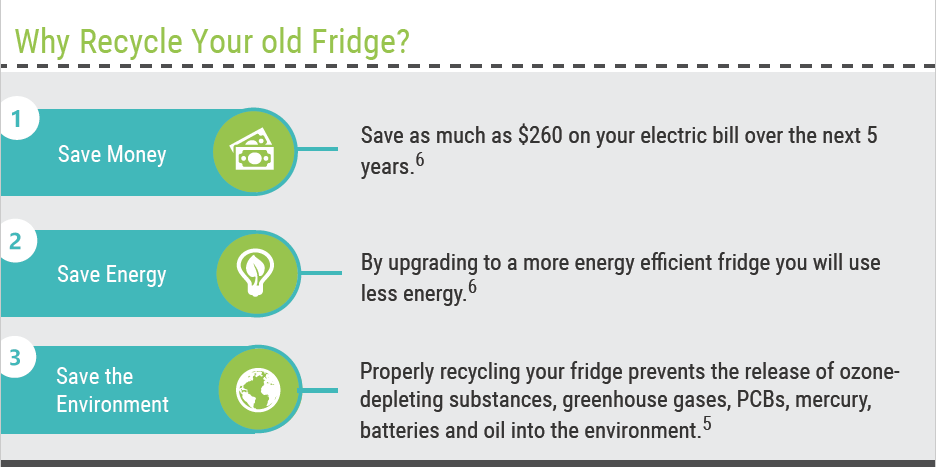 At PNM, we take pride in doing our part to protect the environment in every way we can through our energy efficiency programs for businesses. By letting PNM help you to recycle your old units, you are helping to keep harmful elements and materials that can be used to create other materials out of landfills.
Download the Appliance Recycling Fact Sheet to learn more about the benefits of recycling old inefficient appliances. And find out how much you can save by replacing or removing an old fridge.
---
---
Sign up and stay informed about business rebates & savings

Join the PNM Energy Efficiency Programs eMail List
Updated Mar. 7, 2022