Providing reliable service is the foundation of everything we do at PNM. Our electricity reliability is among the best in the nation, and we're proud of it. However, outages do happen once in a while. We know they're frustrating when they do. The Outage Center is your resource to report a new outage, view current outages and more.
Power outages are frustrating, and we do everything we can to prevent them. The graphic below illustrates a few reasons why they happen.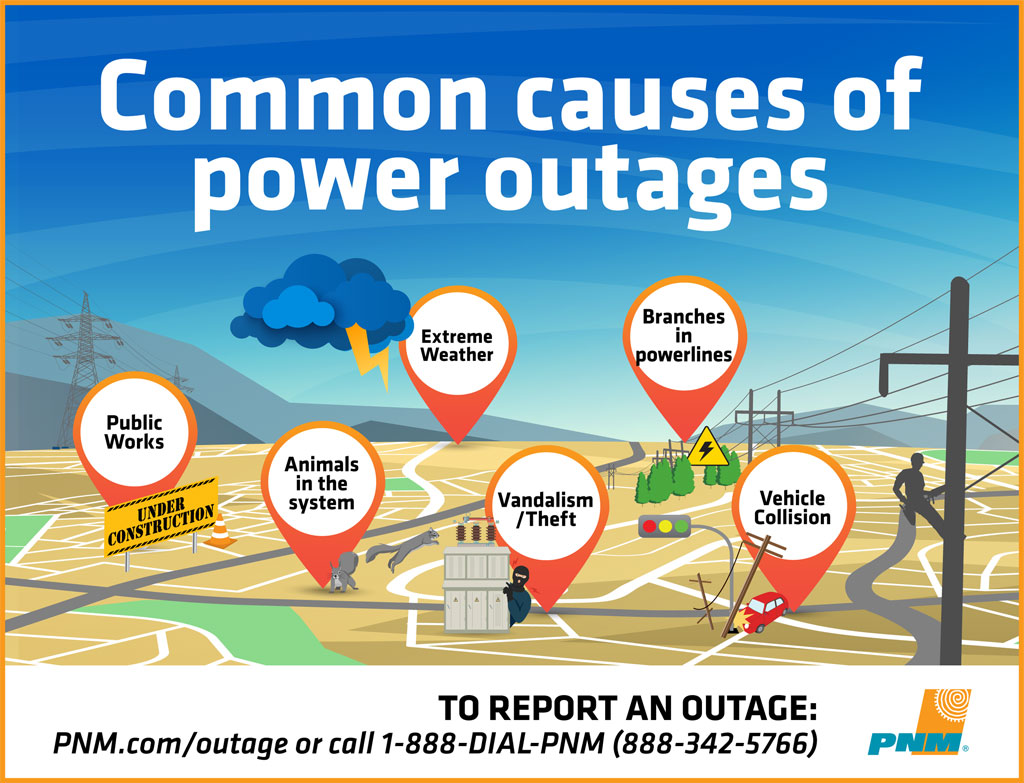 Meet Your Line Crew
PNM's linemen and women are like doctors: They're always on call.

FAQs: Power Outages
How can I find the status of an outage without having to call?

You can view our online outage map or check our mobile outage map to view the status of an outage. For large outages, generally those affecting 1,000 customers or more, we post updates on our Twitter and Facebook pages.

Is it necessary to let PNM know when my power goes out?

Yes. We may not always know if there's an outage at your specific location, so it's best to let us know. You don't have to call, though. You can also report it online, through our mobile site, or text #OUT to 78766. You will need to register first by texting #REG to 78766. Message and data rates may apply.

When is the estimated restore time updated?

Each outage is different. We provide updates as we receive additional information from the Operations Dept and the crews for each outage situation. The Outage Map is updated every 10 minutes.

How do I report a street light that is out?

All street light outages should be reported by calling 888-DIAL-PNM, or they can be reported at PNM.com/streetlights. Please try to be as detailed as possible about the location of the light you wish to report. To view an online Streetlight Owner Map, click here.