Apply for a Grant
2020 PNM Resources Foundation Community Support Grants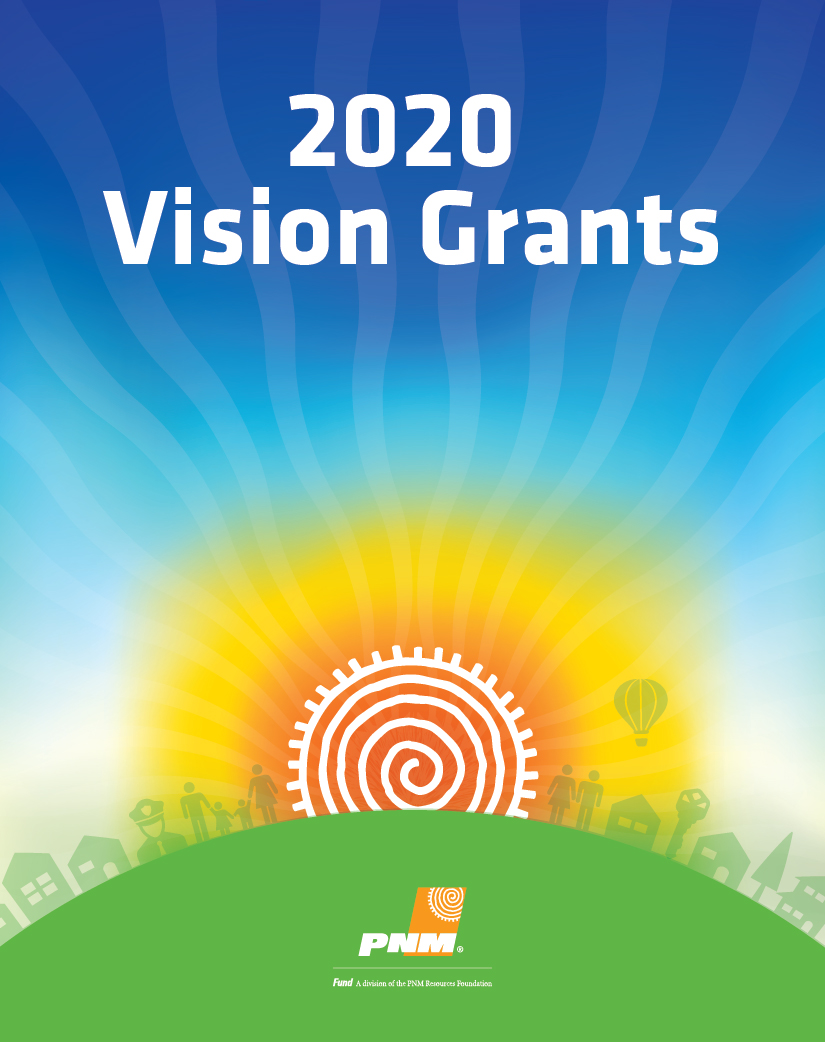 The PNM Resources Foundation is excited to support nonprofit community endeavors through grant opportunities in 2020. Starting this year, we are narrowing our focus to improve identified areas of importance in New Mexico that help move the state forward together. We are calling this new focus "Vision Grants". Over the next three years, the PNM Resources Foundation will contribute approximately $2.5 million toward these specific impact areas:
Reducing homelessness

Congratulations to the recipients! See below for the list of nonprofits that received the grant.

Increasing community safety

This grant opportunity is now closed.

Grant recipients will be announced and shown below in mid-April. Awardees will include New Mexico and Texas area nonprofits currently working to increase community safety with programs assisting the community's most at-risk senior population.

Increasing access to affordable housing

This grant application is by invitation-only.
Once grant recipients are announced, they will be listed below.

Reducing carbon emissions including Reduce Your Use

This will be an open-call for competitive grant applications.
More information to be added soon. Please check back.
The PNM Resources Foundation is a separate, nonprofit, tax exempt corporation governed by a board of trustees comprised of PNM Resources employees. No customer funds are part of the PNM Resources Foundation endowment. For more information on PNM corporate funding for nonprofit organizations, email Community@pnm.com.
Additional Grant Opportunity
Emergency Action Fund for struggling nonprofits affected by COVID-19
The PNM Resources Foundation is helping support the Albuquerque Community Foundation and United Way of Central New Mexico who have teamed up to deploy an Emergency Action Fund to support nonprofit organizations struggling with lost and non-recoverable revenue expenses due to COVID-19. To apply, visit their application page.
2020 PNM Resources Foundation Grant Recipients
Reducing homelessness grant
Nonprofits that work towards reducing homelessness have an impact in our communities and share our vision in moving New Mexico forward together. The following sixteen nonprofits collectively received $210,000 in grants to help them further their important mission:
Albuquerque Healthcare for the Homeless - serving men, women, and children in central New Mexico
Bienvenidos Outreach, Inc. - serving individuals and families in Santa Fe
Childhaven - serving children in the New Mexico Four Corners area
Crossroads for Women - serving women and their children in the Albuquerque area
ECHO, Inc - serving Northern New Mexico
El Refugio - serving people affected by domestic violence in the Silver City area
Heading Home - serving people needing emergency shelter through permanent housing in the Albuquerque area
Hope Works - serving people experiencing homelessness or near-homelessness in the Albuquerque area
Love Inc - serving people in Otero County
Mission Families, United Way - increasing family stability and reducing adverse childhood events in New Mexico
New Day - serving youth runaways with no options in the Albuquerque area
Samaritan House - serving people in crisis due to homelessness and poverty in the Las Vegas area
St Elizabeth Shelter Corporation - serving individuals and families in the Santa Fe area
Supportive Housing Coalition - serving people experiencing homelessness, mental illness, and physical disabilities in the Albuquerque area
Tenderlove - serving people experiencing homelessness, near-homelessness , and low income women in the Albuquerque area
YDI - serving children and families
Grant Application Process
Information for invitation-only grants
Organizations that have been pre-screened and are eligible may submit a proposal through our online application system. A link will be posted here once it's available. Previous funding does not guarantee future funding. Non-invited proposals or letters of intent will not be considered for PNM Resources Foundation grants.
Information for open-competitive grants
Grant applications for programs to increase public safety will open this summer. Reduce Your Use grant applications will be accepted in the fall.
2020 application opening and deadlines
Funding is planned according to the following grant program order: 1) reducing homelessness 2) increasing community safety 3) increasing access to affordable housing 4) reducing carbon emissions including Reduce Your Use grants. The application links will be published above when it is available. Each grant application deadline will also be posted on this page.
Ongoing Grants
Matching grants and volunteer grants are two additional grant resources for nonprofit organizations based on PNM employee or PNM retiree participation.
---
Previous Community Support
2019
In 2019, we were pleased to offer the Reduce Your Use grants, Economic Vitality grants, and Education grants. The PNM Resources Foundation awarded more than $750,000 of support to organizations that focused on these areas. Winners of all the 2019 grants can be found here.
2018
2018 "A New Century of Service" Grant Opportunity
In 2018, we were pleased to continue celebrating our 100th birthday by once again offering our "A New Century of Service" grants. The PNM Resources Foundation awarded a total of $750,000 to support organizations that support economic development, create sustainable community spaces for public use or provide educational opportunities supporting economic development. Winners of the 2018 New Century of Service Grants.
2017
"A New Century of Service" Grant
In 2017, we did something very special as we celebrated the 100th birthday of PNM. A New Century of Service grants supported organizations that promote economic development and education within the PNM service territory. To help us celebrate our first 100 years, 62 grants totaling $750,000 were awarded to NM nonprofits
2016
These grants helped nonprofit organizations put their energy-saving ideas into action with grants up to $5,000. Since the program's inception in 2008, more than $2 million has been granted to nonprofits around the state. 2016 award recipient information can be found here.
PNM Power Up Grants support vibrant communities. Grants were awarded to nonprofits with the best projects for community and neighborhood revitalization, corridor improvements, green space creation or the creation of meaningful public spaces. $500,000 was awarded in 2016 to help build vibrant communities throughout New Mexico.