Refrigerator Recycling Program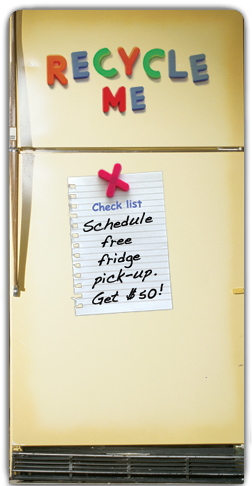 Your old fridge or freezer could be using 20 percent of your home's electricity. If you recycle it, PNM will pick it up for free and we'll give you $50.
PNM recycles refrigerators and freezers for our residential and business customers. You can schedule an appointment to pick up your old fridge or freezer. Call 877-838-1139 or schedule a pick-up date online. Energy efficiency program appointments and rebates are on a first come, first served, basis and are for a limited-time only. Once program reaches its maximum capacity this year, the program will resume the next calendar year.
How to get your $50.
After you schedule your pick up, your old fridge or freezer will be hauled away to be recycled. You will receive your check for $50 in four to six weeks.
Is your old refrigerator eligible for a $50 recycling check?
In order to be eligible your old refrigerator must be in working condition, plugged in, and be a typical kitchen-sized unit (10 to 30 cubic feet in size). Dorm-sized refrigerators do not qualify. Limit of two refrigerators and/or freezers per household. There is also a limit of two units for businesses, more accepted if approved by PNM.
Did you know:
Older refrigerators are much less energy-efficient than new ones.
A 25-year-old refrigerator can use up to three times more electricity than a new one, 1500 kilowatt-hours (kWh) per year, compared to about 500 kWh per year.
Remove an older, secondary refrigerator and you could save about $175 annually on your electricity bill.
Find out how much you can save by replacing or removing an old fridge.
Business customers
PNM also offers a Refrigerator Recycling Program for business customers.
Learn more about how businesses can get money for recycling old fridges
FAQs: Refrigerator Recycling Rebate
Does my refrigerator or freezer have to be working for it to be recycled under this program?

Yes. We can only accept units that are in working order.

How many units can I recycle?

Residential customers can recycle two refrigerators or freezers per account, per year.

I'm a landlord. Can I recycle a refrigerator?

If you are the PNM account holder or participate in the PNM Landlord Standby Program, you are eligible to receive the rebate. Typically, PNM can only pay a rebate to the account holder or other responsible party listed on the account.

Can I recycle my dorm-sized refrigerator?

No. We can only pick up and recycle refrigerators and freezers that are between 10 and 27 cubic feet in size. These dimensions refer to the interior space, rather than the outside dimensions, and can be found on the label on the refrigerator or freezer.

Where do the units go when they're removed from customers' homes?

All

refrigerators and freezers begin the recycling process at the PNM Refrigerator Recycling Facility in Albuquerque. Here, they are disassembled, the harmful refrigerants and oils are removed, and the various materials are shipped to different recycling centers. All in all, 95% of each refrigerator or freezer is recycled.