PNMR-MyPersonalInfo-portlet

Web Content Display
Integrated Resource Planning
Balancing Reliability and Affordability While Reducing Impact to the Environment
The state requires us to examine the challenges and opportunities for providing energy in the future and to identify the most cost-effective power generation portfolio. Although planning is ongoing at PNM, every three years we conduct a public planning process that results in an Integrated Resource Plan (IRP), which serves as a roadmap for our company. The IRP includes a four-year action plan and a long-term look at the next 20 years. A copy of the PNM 2014-2033 IRP report is available here: PNM 2014 IRP

Your feedback matters. We want input from customers and industry experts to help us formulate the PNM Integrated Resource Plan for 2017. This is a yearlong process in which PNM will hold periodic public meetings to review our existing diverse power resources from wind, solar, geothermal, coal, natural gas and nuclear generation and explore the issues that impact energy planning like: transmission and distribution, regulations, integrating renewable resources with traditional energy sources, the environment and the need to deliver affordable and reliable power.
The final 2017-2036 IRP plan will be filed in the summer of 2017
Meetings
If you would like to attend an upcoming meeting, please email irp@pnm.com or call (505) 241-0913.
Where: PNM Headquarters
414 Silver Ave SW
Albuquerque, NM 87102
When: Tuesday March 28, 2017, 10 a.m. - 3 p.m. with a lunch break at noon.
Online webinar
If you are unable to attend in person, listen to the meeting and view the presentation slides online by registering for a GoToWebinar® at https://attendee.gotowebinar.com/register/6844649380270116099.
Presentations & supporting materials
IRP Schedule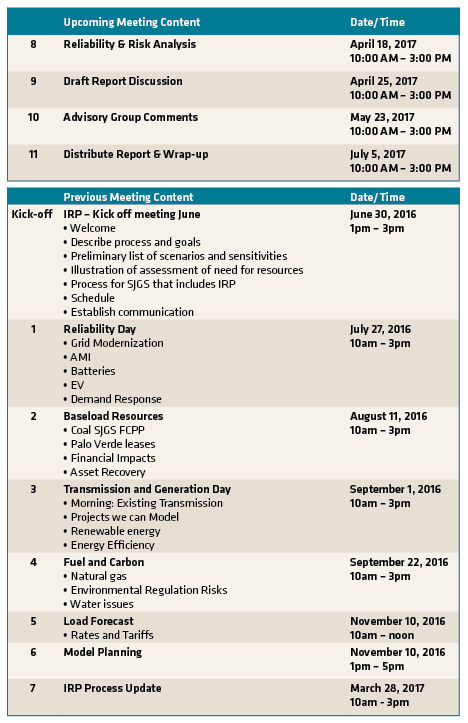 Print a copy of the IRP meeting schedule