Electric Vehicle Basics and Benefits

Owning an Electric Vehicle (EV)
Talk to any electric vehicle (EV) driver and you'll likely see them express a little grin of satisfaction we like to call the "EV grin." When you get behind the wheel and take an EV for a drive you'll instantly know why they¿re grinning. The experience electricity delivers is a smooth, quiet ride with powerful acceleration and torque, low lifetime maintenance and low predictable fuel costs. Let's talk more about some of the benefits of driving an EV.
Benefits of Owning an EV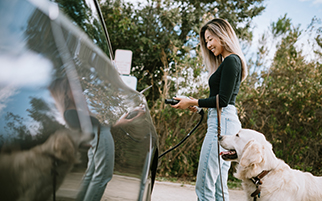 EVs use a battery to store the electric energy that powers the motor. EV batteries are charged by plugging the vehicle into an electric outlet.
Many electric vehicles receive top National Highway Safety Traffic Administration safety ratings.
Most Americans drive about 35 miles a day. According to the manufacturers, today's EV have an average range greater than 100 miles.
The estimated cost of electricity needed to power a plug-in electric vehicle is about one-third of the cost of gasoline.
Because they rely in whole or part on electric power, their fuel economy is measured differently than in conventional vehicles. Miles per gallon of gasoline equivalent (mpge) and kilowatt-hours (kWh) per 100 miles are common measures.
All-electric vehicles produce zero tailpipe emissions, which makes them much more environmentally friendly than conventional vehicles.
Electric vehicles offer significant environmental advantages over conventional gasoline or diesel-powered cars. Reduced Carbon Emissions | Reduced Operating Emissions | Water Quality Preservation | Reduced Noise
Many all-electric vehicles qualify for federal tax incentives and credits.
Buying an EV
You have several choices when you are ready to begin the research and considering all the important details before buying an EV. The Electrical Power Research Institute (EPRI) has compiled a Consumer Guide to Electric Vehicles that highlights the many electric vehicles that are available nationwide. You can use this guide to begin your research and learn more about the types of electric vehicles that are made, the driving ranges, and the charging levels which is explained in more detail here.
Types of EV

There are three types of electric vehicles, Hybrid (HEVs), Plug-In Hybrid (PHEVs), and All-Electric (EVs). Which type of vehicle is right for you depends on your needs and driving habits. Use the Department of Energy tool to determine which EV fits your needs and your lifestyle. You can also learn more about the differences between hybrid and all electric vehicles by visiting the Department of Energy electric vehicles site.
More resources about electric vehicles

We understand that making the decision to buy an electric vehicle means you will want to research the options that are best for you. Here are some other resources we found that might help you with the journey toward making an informed decision.
Already have an EV? Join our community!

If you already own an EV, we would love to have you join our PNM EV Community. Tell us a little about yourself and the type of EV you own and we'll keep you posted on upcoming PNM programs for EV owners. If you want more information about electric vehicles and charging stations, please contact us at EV@pnm.com.