2016 PNM Power Up Grant Recipients
Congratulations to the 2016 Winners!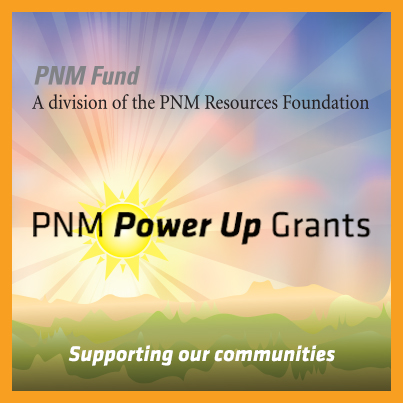 The PNM Fund is proud to announce the winners of this year's grant cycle. Grants ranging from $5,000 to $20,000 were awarded to 29 nonprofits throughout New Mexico to fund projects that build vibrant communities.
Here are the projects the PNM Power Up Grant program will fund for the enjoyment of New Mexicans.
Alamogordo
Alamogordo Community Garden - $14,000 to add a portable greenhouse and benches to community garden
Capped, Inc. - $20,000 to add a labyrinth to Washington Park
International Space Hall of Fame Foundation - $20,000 to install a shaded playground and picnic area
Albuquerque
Downtown Neighborhoods Association - $16,000 to plant trees
First Choice Community Healthcare - $20,000 to install two passive solar green houses and five raised garden beds
Friends of the Orphan Signs - $15,000 to create and install student designed imagery on two road signs
Hubbell House Alliance - $5,000 to add four picnic tables and three benches
Indian Pueblo Cultural Center - $20,000 to build a teaching garden to create an outdoor learning environment
National Hispanic Cultural Center Foundation - $20,000 to construct a reflection meadow and pathway lighting.
New Mexico Bio Park Society, Inc. - $20,000 to update three exercise stations at Tingley Beach
Rail Yards Market of Albuquerque - $20,000 to fabricate planter and seating areas and create a recycling and composting program
St. Martin's Hospitality Center- $20,000 to construct seating, enhanced façade and improved sidewalks in front of shelter
The Storehouse, Inc. - $17,000 to create vertical gardens and a mural
University Heights Association - $15,000 to create a mural in collaboration with the City of Albuquerque
Working Classroom, Inc. - $20,000 to restore mural at Washington Middle School
Bernalillo
New Mexico Foundation for Individuals with Disabilities - $19,977 to construct Growing Hope Greenhouse
Deming
City of Deming - $18,000 to add a splashpad to the John T. Waits Park
Las Vegas
San Miguel County Government - $18,380 to install gazebo, planters and public seating areas
Lordsburg
Hidalgo County Youth Community Garden - $17,302 to add plants, greenhouse and hen house to community garden
Madrid
Madrid Cultural Projects Inc. - $17,200 to restore historic ballpark
Rio Rancho
Friends of the Library of Rio Rancho - $19,995 to create an outdoor classroom
Ruidoso
Little Bear Forest Reform Coalition - $8,190 to install two LED message signs
Village of Ruidoso - $20,000 to build a pavilion in Wingfield Park
Santa Clara
The Village of Santa Clara - $20,000 to install a children's play center
Santa Fe
Reunity Resources - $18,770 to construct a hoop house on the grounds of the Santa Fe Community Farm
Santa Fe Animal Shelter & Humane Society - $19,500 to create community walking trail
Santa Fe Botanical Garden - $13,630 to construct two sets of stairs
Santa Fe Watershed Association - $9,548 to install bicycle racks and benches along the Santa Fe River
Silver City
Guadalupe Montessori School - $17,508 to create a green gathering space