News Release
April 26, 2017
Tribal leaders, San Juan College officials and PNM honor scholarship recipients
Students funded through $1 million PNM commitment
(Farmington, NM): More than 60 San Juan College students enrolled in Trades and Technology, Energy, Engineering, and Computer Science programs were awarded scholarships as part of the PNM-Navajo Nation Workforce Training Initiative during a reception on Tuesday.
Scholarship funding ranged from $300 to $2,000 and assists students who are working toward certificates and associate degrees.
The Speaker of the 23rd Navajo Nation Council LoRenzo Bates, San Juan College President Dr. Toni Hopper Pendergrass and PNM Senior Vice President of Public Policy Ron Darnell recognized and honored this year's scholarship recipients.
"Education opens doors and improves the lives of families. It can lift individuals into rewarding careers, which benefits communities and helps make the world a better place," said Darnell. "Helping lay the foundation for a stronger New Mexico and Navajo Nation economy is important to us at PNM."
The PNM-Navajo Nation Workforce Training Initiative was established in 2013. PNM and the Navajo Nation joined forces with San Juan College in Farmington, New Mexico, and Navajo Technical University in Crownpoint, New Mexico, to develop and administer the program on behalf of PNM and the Navajo Nation. PNM is contributing $1 million, distributed $200,000 annually over five years to Navajo student scholarship recipients. San Juan College receives $114,000; Navajo Technical University $77,000; and PNM American Indian Engineering Program $10,000.
Since the program's inception, PNM has provided 230 scholarships to San Juan College students alone. As a result, 92 have received associate degrees and 66 have completed certificates.
The program is designed to ensure that New Mexico and the Four Corners area have the trained workforce needed for existing and emerging jobs, and that members of the Navajo Nation are well trained to fill these positions.
"These students are the future of energy in New Mexico," Bates said. "Four years ago, PNM approached the Navajo Nation with a great initiative to partner with regional colleges ¿ San Juan College and Navajo Technical University ¿ to prepare students for careers in the energy industry. I want to thank our partner PNM for standing by the Navajo Nation and helping our Navajo students prepare for jobs that will benefit our economic future."
"PNM's commitment has made a tremendous difference for so many of our students," said Dr. Pendergrass. "These scholarships have enriched the lives of our students and their families, while contributing to a well-trained workforce for our community. Through our partnership, PNM has generously shared their time, talents and resources, contributing greatly to the institution San Juan College is today."
Students at the event talked about how the scholarships helped them in their academic efforts.
"The PNM scholarship has made a huge difference in my life," said Reid Naize, a San Juan College student majoring in welding. "Without it I would not have been able to afford to come to college. With the scholarship I have been able to purchase tools and additional supplies I need for my courses, as well as pay for rent. The scholarship has made it possible for me to move several steps toward accomplishing one of the biggest goals that I have set for myself."
"The PNM scholarship has helped me not only in my financial situation, but also by motivating me to keep good grades and strive for academic excellence," said Regina Yazzie, a San Juan College student pursuing an Associate of Applied Science Degree in the Industrial Process Operator program. "In my mind I needed to keep my grades good so PNM will continue to support me and enable me to enroll every semester. I used to work two jobs to support my family as well as myself, but with the help of the PNM scholarship, I am able to work only one job and spend more time studying."
The 2016-17 San Juan College PNM-Navajo Nation Workforce Training Program scholarship recipients include:
Albervin Allen
KayCee Allen
Davery Allison
Ryan Antonio
Amery Atene
Julius Begay
Marlynna Begay
Rolanda Begay
Jerocho Benally
Michael Benally
Trevor Benally
Quentin Benioh
Craig Blackwater
Jules Boyd
Jonathan Brown
Kevin Chee
Alrick Claude
Kayo Deschenie
Chad Dixon
Eric Etcitty
Donald Frank
Melakia Garcia
Kayla Growler
Landon Harrison
Sheldon Howard
Leonardo Jack
Brian Johnson
Dominic Johnson
Harold Johnson
Vince Johnson
Craig Lee
Kiethen Lee
Melvin Mason
Zachary McCurtain
Marshall McThomas
Julian Moses
Reid Naize
Iris Nez
Rogerson Notah
Zachary Ortiz
Tatiana Pablo
Travis Parker
Adrieanne Peshlakai
Kyle Rodriguez
Brandon Salt
Bobby Simpson
Jerrin Smith
Tyrone Smith
Dennis Stevens
Haines Tan
Delton Thomas
Patdric Toehe
Malcolm Toledo
Trelford Tsosie
Adrian Waddoups
Nelvin Wilson
Daniel Yazzie
Dennison Yazzie
Gerald Yazzie
Jerald Yazzie
Kelsey Yazzie
Regina Yazzie
Tribal leaders, San Juan College and PNM honor scholarship recipients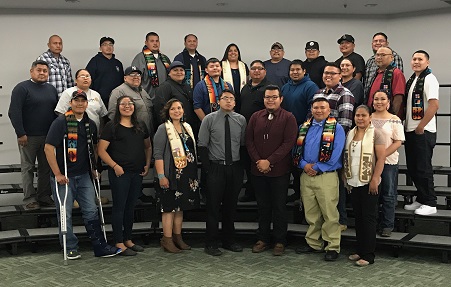 With headquarters in Albuquerque, PNM is the largest electricity provider in New Mexico, serving more than 500,000 customers in dozens of communities across the state. PNM is a subsidiary of PNM Resources, an energy holding company also headquartered in Albuquerque. For more information, visit PNM.com.