Electricity Rates and Riders
PNM Transmission
Transmission rates cover the cost of moving energy on PNM's transmission system. PNM rates are updated annually and go into effect on June 1 of each year.
Sign up for notices related to the Annual Update by emailing FERCNotices@pnmresources.com. You can unsubscribe at any time.
Annual Transmission Revenue Requirement
The annual transmission revenue requirement, or ATRR, is the estimated amount of revenue PNM must recover annually to cover costs associated with its transmission system. PNM's protocols and schedules associated with the ATRR are contained in Attachment H-2 of PNM's Open Access Transmission Tariff (OATT).
Annual Updates
2023 Annual Update
*A "fully functioning" excel file of the annual update formula rate runs 1 and 2 are provided above in a read-only format. Customers wishing to modify the input values can save a document onto their computer before continuing.
Customer Meeting
Tuesday, August 15, 2023 (1:30 PM - 3:00 PM MT)
When it's time, join your Webex meeting here.
More ways to join:
Join from the meeting link
https://pnmresources.webex.com/pnmresources/j.php?MTID=m76dd19f9c47108256b779ea2a1a2302f
Join by meeting number
Meeting number (access code): 2484 598 3997
Meeting password: dWUA3E4jPu3
Join by video system

Dial 24985727172@pnmresources.webex.com

You can also dial 173.243.2.68 and enter your meeting number.
Tap to join from a mobile device (attendees only)
+1-408-418-9388,,24845983997## United States Toll
Join by phone
+1-408-418-9388 United States Toll
Global call-in numbers
Information Requests
PNM posts Information Requests and Responses on PNM's OASIS site: https://www.oasis.oati.com/PNM/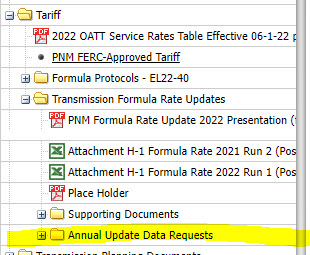 Annual Informational Filings
The Annual Update will be for "informational purposes" to provide notice to FERC, including any corrections or adjustments made during the period. PNM will submit the filing by February 1.
Filings
2022 Informational Filing Docket No. ER22-2041-000
2022 Informational Filing Docket No. ER22-2041-000 filed February 1, 2023