Apply for a Grant
2020 PNM Resources Foundation Community Support Grants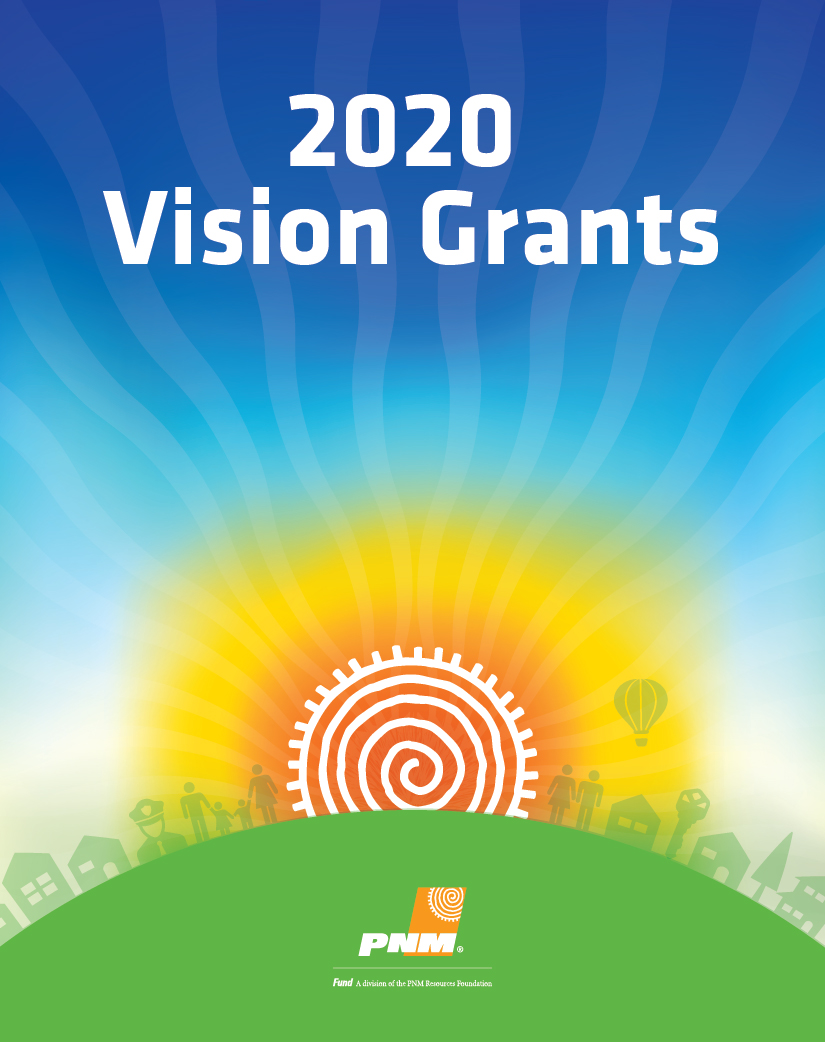 Starting this year, we are narrowing our focus to improve identified areas of importance in New Mexico that help move the state forward together. We are calling this new focus "Vision Grants". Over the next three years, the PNM Resources Foundation will contribute approximately $2.5 million toward these specific impact areas:
Increasing community safety
Congratulations to the recipients! See below for the 23 nonprofit awardees in New Mexico and Texas.
Reducing homelessness
Congratulations to the recipients! See the list of nonprofits that received the grant.
Increasing access to affordable housing
This grant application is by invitation-only.
Reducing carbon emissions including Reduce Your Use
This will be an open-call for competitive grant applications. More information to be added soon. Please check back.
Additional Grant Opportunity
Emergency Action Fund for struggling nonprofits affected by COVID-19
The PNM Resources Foundation is helping support the Albuquerque Community Foundation and United Way of Central New Mexico who have teamed up to deploy an Emergency Action Fund to support nonprofit organizations struggling with lost and non-recoverable revenue expenses due to COVID-19. To apply, visit their application page.
2020 PNM Resources Foundation Grant Recipients
Increasing community safety grant
Nonprofits that work towards increasing community safety have an impact in our communities and share our vision in moving New Mexico forward together. The following twenty three nonprofits collectively received $220,000 in grants to help them further their important mission:
Albuquerque Meals on Wheels, Inc. (Albuquerque) - Facilitates increased community safety for our most vulnerable populations through our home frozen meal delivery to seniors, community members with compromised immune systems, and those with chronic health conditions necessitating a specialized diet in the greater Albuquerque area.
Boys & Girls Club of Central New Mexico (Albuquerque) - During COVID-19 - providing emergency all day childcare for youth of essential workers, developing and implementing virtual programs to continue mentoring programs for youth, and providing computers and other technology needed for kids to access educational activities at home.
New Mexico Veterans Integration Centers (Albuquerque) - Our Program will help support the increasing need for safe housing and food security during the COVID-19 crisis.
Share Your Care Adult Day Services (Albuquerque) - To assist with the costs of our Vulnerable Adult & Senior COVID-19 Comprehensive Care Plan which provides: Wellness Checks, Socialization Engagement, Resource Outreach and Provisions to our participants while our center-based care services and the revenue they provide are suspended due to State mandates.
Storehouse New Mexico (Albuquerque) - To provide free shopping carts of healthy food, especially to our seniors in the community, with no income restrictions. Special safety shields were installed to protect staff and clients during the pandemic.
Three Sisters Kitchen (Albuquerque) - The ReFresh Program provides bi-weekly food bags to 60-90 food insecure Albuquerque households, contributing to increased food security and community connection, and supporting participants' capacity to stay at home during this public health crisis.
University of New Mexico Foundation, Inc. (Albuquerque) - Project ECHO is mobilizing its New Mexico network of partners to address the COVID-19 crisis with the goals of flattening the curve, slowing the spread of the virus, and protecting our seniors, who are most vulnerable.
Deming-Luna County Commission On Aging Inc (Deming) - Our organization will reduce the risk of exposure to COVID-19 for seniors and disabled adults by facilitating access to daily nutritious meals served in sturdy disposable trays and daily sanitation of equipment used to transport and deliver meals.
Northwest New Mexico Seniors, Inc. (Farmington) - Provide a bi-weekly box of grocery staples to home bound seniors throughout San Juan County.
La Vida Felicidad (Los Lunas) - Provide essential support (getting food, medication, offering companionship, housekeeping, personal care) to elderly citizens who are isolated at home and are at risk for abuse, neglect, and exploitation.
MainStreet de Las Vegas (Las Vegas) - Provides essential support in the form of one-time funds to residents in the greater Las Vegas community who have been, and will be, the most severely impacted by COVID-19 virus.
Storehouse West, Inc. (Rio Rancho) - Serves the residents of Sandoval County with emergency food supplies, hygiene items and children's clothing in the spirit of an institution that is an Equal Opportunity Provider
The Notah Begay III Foundation (Santa Ana Pueblo) - In response to the COVID-19 pandemic, the NB3 Foundation has created a relief initiative named the Helping Our Relatives Covid-19 Response Fund to support two primary areas: 1.) Access to nutritional food and clean water through delivered supplies and 2.) Access to safe youth development and education opportunities as a result of being out of school.
Make Santa Fe (Santa Fe) - MAKE Santa Fe will use advanced manufacturing equipment to provide high-quality personal protective equipment to healthcare workers, first responders, essential workers, and at-risk members of the community.
Santa Fe Boys & Girls Club (Santa Fe) - On March 30, 2020 we began offering online homework help to youth in the community, ages 5-18, who are not in school due to the COVID-19 crisis. On April 6, our Zona Club site on the south side of Santa Fe will reopen to all Club members, with priority given to those who have parents working in jobs that are considered essential during this time. Children will attend free of charge.
MoGro through Santa Fe Community Foundation (Santa Fe) - MoGro is a non-profit food access program that delivers weekly shares of healthy foods (including local produce) to community sites across Northern New Mexico, including Santa Fe, Albuquerque, Española and rural and Tribal communities. MoGro is currently packing and distributing food bags to home-bound seniors in Santa Fe County and northern New Mexico in order to protect our most vulnerable residents from COVID-19 related illnesses.
The Food Depot (Santa Fe) - To support the provision of essential hunger relief to our most vulnerable community members; the health and safety of our community are a top priority--and that includes access to food.
Alvin Volunteer Fire Department (Alvin, TX) - This project is an attempt to protect the Citizens of the City of Alvin and the volunteer firefighters/members of the Alvin Volunteer Fire Department (AVFD) from the spread of COVID-19.
Clifton Lutheran Sunset Home (Clifton, TX) - Lutheran Sunset Ministries Companion Services program donates time to Lutheran Sunset Ministries' Independent Living program, Rainbow Retirement Community.
Rotary Club Of Friendswood Charitable Foundation (Friendswood, TX) - The Friendswood Rotary Club, Friendswood Youth Baseball and the city of Friendswood have partnered with each other to support Friendswood elderly and local students in need of meals during the coronavirus pandemic.
The Montague County Carpenters Shop Inc (Nocona, TX) - To feed the elderly and disabled and educate them regarding health and safety concerns.
Sweeny Community Hospital Development Foundation (Sweeny, TX) - We will provide meals, first aid kits, adult hygiene items, sanitizer and activities to promote mental health to the most at risk -- our elderly citizens.
Galveston County Food Bank (Texas City, TX) - Due to the COVID-19 health crisis and an increased need among senior residents for nourishing food, the Galveston County Food Bank (GCFB) has added home food deliveries to its onsite pantry program to assist elderly residents choosing to stay at home.
Grant Application Process
Information for invitation-only grants
Organizations that have been pre-screened and are eligible may submit a proposal through our online application system. A link will be posted here once it's available. Previous funding does not guarantee future funding. Non-invited proposals or letters of intent will not be considered for PNM Resources Foundation grants.
Information for open-competitive grants
Grant applications for programs to increase public safety will open this summer. Reduce Your Use grant applications will be accepted in the fall.
2020 application opening and deadlines
Funding is planned according to the following grant program order: 1) reducing homelessness 2) increasing community safety 3) increasing access to affordable housing 4) reducing carbon emissions including Reduce Your Use grants. The application links will be published above when it is available. Each grant application deadline will also be posted on this page.
Ongoing Grants
Matching grants and volunteer grants are two additional grant resources for nonprofit organizations based on PNM employee or PNM retiree participation.
---
Previous Community Support
2019
In 2019, we were pleased to offer the Reduce Your Use grants, Economic Vitality grants, and Education grants. The PNM Resources Foundation awarded more than $750,000 of support to organizations that focused on these areas. Winners of all the 2019 grants can be found here.
2018
2018 "A New Century of Service" Grant Opportunity
In 2018, we were pleased to continue celebrating our 100th birthday by once again offering our "A New Century of Service" grants. The PNM Resources Foundation awarded a total of $750,000 to support organizations that support economic development, create sustainable community spaces for public use or provide educational opportunities supporting economic development. Winners of the 2018 New Century of Service Grants.
2017
"A New Century of Service" Grant
In 2017, we did something very special as we celebrated the 100th birthday of PNM. A New Century of Service grants supported organizations that promote economic development and education within the PNM service territory. To help us celebrate our first 100 years, 62 grants totaling $750,000 were awarded to NM nonprofits
2016
These grants helped nonprofit organizations put their energy-saving ideas into action with grants up to $5,000. Since the program's inception in 2008, more than $2 million has been granted to nonprofits around the state. 2016 award recipient information can be found here.
PNM Power Up Grants support vibrant communities. Grants were awarded to nonprofits with the best projects for community and neighborhood revitalization, corridor improvements, green space creation or the creation of meaningful public spaces. $500,000 was awarded in 2016 to help build vibrant communities throughout New Mexico.
---
About the PNM Resources Foundation
The PNM Resources Foundation is a separate, nonprofit, tax exempt corporation governed by a board of trustees comprised of PNM Resources employees. No customer funds are part of the PNM Resources Foundation endowment. For more information on PNM corporate funding for nonprofit organizations, email Community@pnm.com.