Thinking of switching to refrigerated air conditioning?
See how your electricity bill will be affected.
An air conditioning conversion will cost several thousand dollars or more. The exact amount will depend on your home size, duct work and the efficiency level of the unit.
Managing your energy use
Refrigerated air conditioning uses more electricity than evaporative cooling. There are ways to reduce the amount you use and save energy and money.
Programmable thermostats can increase the temperature a little when you are not home and set it to turn on before you arrive back home.
Consider investing in an energy efficient air conditioner and get a $100 rebate from PNM for purchasing a CEE Tier 1 unit.
Participate in the PNM Home Energy Checkup for an assessment of your home. You'll get a snapshot of your energy use and suggestions for savings. And you might qualify for additional appliance and cooling rebates.
Participate in PNM Power Saver - earn a $25 sign-up bonus and $25 each year.
If your home is not well insulated, adding insulation will save on energy cost year round.
How Much Will Your Energy Use Change?
On average, your electricity use for the June-August cooling months could increase. See the chart below to help gauge your energy use. Of course there are many variables that determine the increase including the size of your home, how well it is insulated, how low you set the thermostat and whether you use a programmable thermostat so you can "set it and forget it."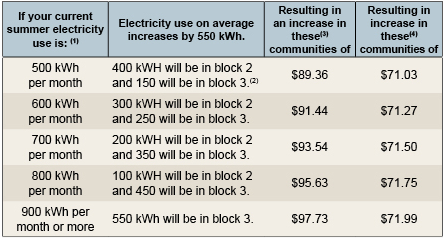 (1)You can find your electricity use by month, previous bills and more at your online PNM.com account. Log in or sign up here. The average residential customer uses 600 kWh per month. A kWh is a kilowatt hour ¿ one kilowatt (1,000 watts) of electricity for one hour. For example, a 1000-watt heater uses 1 kWh in one hour (1,000 watts X 1 hour = 1,000 watts). A 100-watt light bulb uses 1 kWh in 10 hours (100 watts X 10 hours =1,000 watts).
(2) Summer electricity rates (June through August) are a little higher than non-summer rates.
To give you the total the bill might increase in this example, these amounts include costs that are tied to energy use including the energy efficiency fee, the fuel cost adjustment and the renewable energy fee. City franchise fee (if any) and New Mexico Gross Receipts tax are not included.
(3) Albuquerque metro area, Santa Fe, Las Vegas, Clayton and Deming
(4)Alamogordo, Ruidoso and Ruidoso Downs, Silver City, Lordsburg, Bayard