Energy and Copper Theft
Energy theft
Energy theft, also called energy diversion, occurs when individuals tamper with electric meters or electric power lines. Energy theft is illegal, costly, and it can be fatal. PNM is committed to stopping it, but we need your help.
While honest customers are working hard to conserve energy and cut energy costs, energy thieves are tampering with service lines and meters. Energy theft ranges from tapping into a neighbor¿s energy source to illegally adjusting a meter. Meter tampering occurs in homes, grocery stores, restaurants and other commercial establishments. It can lead to losses in revenue that result in increased rates for everyone.
Tampering with meters and other utility equipment can cause shock or electrocution, and damaged meters may cause fires or explosions.
PNM monitors suspicious accounts and meter readers and other field personnel are trained to recognize tampering and hazardous hookups.
Report energy theft
It is against the law to tamper with or to reconnect electric meters that have been disconnected by PNM; or to knowingly consume electricity which has not been correctly metered because of tampering.
If you suspect an energy theft has occurred, call us at 888-DIAL-PNM so we can investigate. You may contact us anonymously; all information is kept confidential.
Copper theft
Stealing copper is dangerous ¿ and it is a crime.
Copper theft is a national issue that plagues residents, utilities and businesses every year. High copper prices entice criminals to steal metals from homes, businesses, scrap sites, and utilities. Not only is copper theft illegal and costs customers thousands of dollars to replace, but it also poses a serious safety hazard to the public.
Thieves recklessly steal copper and leave electrical wires and equipment damaged an exposed. Customers pose a risk of shock or electrocution if they were to come in contact with these wires, and the situation puts PNM employees at risk as well. Streetlights are a popular place for criminals to steal copper from, but the result leads to severely damaged wiring and equipment that can take weeks to replace, and cause streetlight outages. When thieves risk stealing from PNM properties like substations, the results can be deadly and cause extreme damage to electrical equipment, and result in power outages affecting PNM customers.
If you are a business owner, and have been a victim of copper theft, there are steps you should take:
Do not touch the transformer or meter, or any wires that may be sticking out. Even if there is not arcing or sparking, the wires may still be energized and be a serious safety hazard.
Call PNM customer service at 888-DIAL-PNM to report the copper theft, so we can send a crew to make the area safe.
The customer will need to hire a licensed electrician to do the repair work. This is not work that PNM performs. Be sure to hire an electrician who has a journeyman license and liability insurance.
Once the work is completed, the electrician and/or business owner must complete this form and send it into PNM, along with any other documents requested by PNM. PNM will then work with the business owner to schedule a time for a crew to come out and re-energize the equipment.
How can businesses protect themselves from thieves?
There are protective devices that businesses can purchase that barricade the doors to transformers and meters and cover the locks and handles to prevent access. Do not weld the meter box or transformer shut, or completely enclose the equipment in a cage, unless PNM has access to any locks on the cages. PNM requires access to our equipment at any time of day or night, so once a business places this equipment on their transformer or meter, we need to be notified so we can place a lock of our own on the barricade.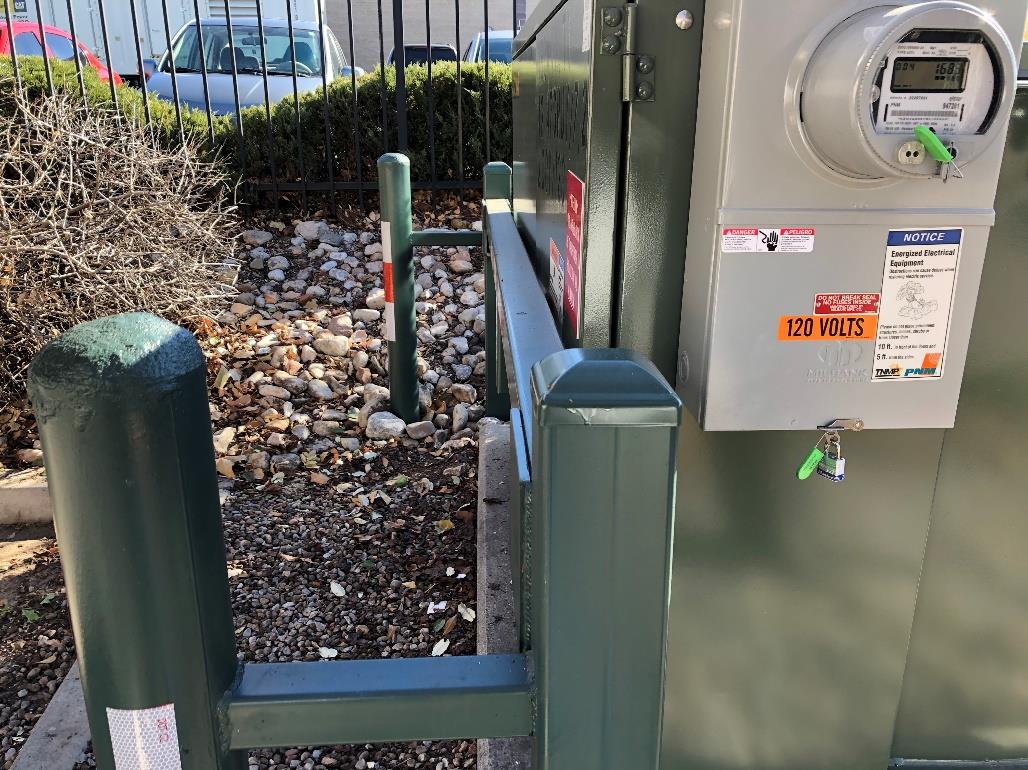 How can you help?
PNM works diligently with local law enforcement to prevent this crime, but we ask that customers keep an eye out for copper theft in their areas. We have proudly been collaborating with Albuquerque Metropolitan Crime Stoppers for many years to fund tips that lead to copper theft arrests. Copper theft is costing Albuquerque taxpayers thousands of dollars yearly, and arrests are paramount to preventing this costly crime. If anyone has information on copper theft they can call Crime Stoppers at (505) 843-STOP (7867). Anonymous tips can also be submitted at P3tips.com.
Help us by reporting any suspicious activity at our substations or other facilities by calling 888-DIAL-PNM.