PNM is here to help. If you are having difficulty paying your electric bill, please contact us so we can make arrangements. We can also discuss payment assistance programs, such as the PNM Good Neighbor Fund, that may be able to help. Please reach out to us via live chat on PNM.com, email (PNMCustomerService@pnm.com) or phone (888-342-5766) to discuss your options.
If you need to report an outage or electric emergency, call us 24/7: (888) 342-5766.
Email Us
Please do not report an outage or electric emergency by email.
---
Before you email us, did you know you can do these things when you log in to your PNM.com account?
Start, stop, and transfer service
View and print copies of your current and previous bills
Answer most billing questions
View usage and payment history
View or change your Automatic Payment plan
Update your mailing address, phone number or email
Not registered yet? Sign up today.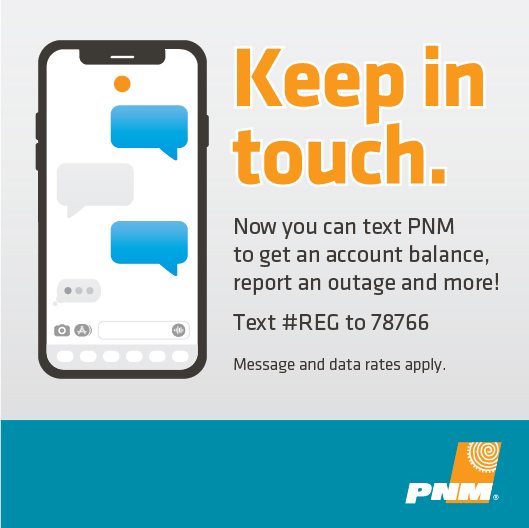 You can also text PNM to get your account balance, request a payment extension, report power outages, and to receive outage status updates. Text #REG to 78766 to get started. Message and data rates apply.
#OUT-Report a power outage
#ALERT-Get outage alerts
#BAL-Get account balance
#EXT-Request a payment extension

To send us feedback or ask a question, please select a department to contact.
You will receive a reply within 3 business days. For quicker service, Chat live with a representative.
---
KUBRA EZ-PAY Payment Services for PNM
(844) PNM-PYMT (1-844-766-7968)
Customer Service
(888) DIAL-PNM (1-888-342-5766)
Hours: Weekdays, 7:30 a.m. to 6 p.m.
Best time to call: Tues. - Thurs. 9:30 a.m. - 4 p.m.
Business Customers
(888) 245-3659
Speech/Hearing Impaired
TDD-TTY: 711
Other Departments
Switchboard: (505) 241-2700
Customer Solar Programs: (505) 241-2750
Mailing Information
PNM
Main Offices
Albuquerque, N.M., 87158
Physical Address
414 Silver Ave. SW
Albuquerque, NM 87102
Payments
P.O. Box 27900
Albuquerque, NM 87125-7900
FAQs: Customer Service
How long will it take to get a response?

You can expect a response within three business days. more...