PNM Power Up Grants
Supporting vibrant communities throughout New Mexico
The PNM Resources Foundation is excited to support your endeavors through three competitive grant opportunities in 2019.
These grants will be focused on each of our three impact areas ¿ education, economic vitality and environmental stewardship. Timing for these grants will be spaced throughout the year. See below for details on each grant opportunity.
PNM Power Up Economic Vitality Grants

The Economic Vitality Grant application closed July 15, 2019. Awards should be determined in August. Grant awards up to $50,000 for programs that support creating and sustaining jobs in New Mexico, and job or skills training. Learn more.
PNM Power Up Education Grants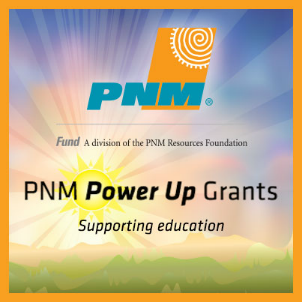 Congratulations to the following grant recipients:
Alamogordo
$10,000.00 - Imagination Library of Otero County - To fund purchasing books for over 1500 children registered in Dolly Partons Imagination Library Program
$5,000.00 - NMSU Foundation - To fund a STEM summer camp for middle school students in Alamogordo
Albuquerque
$6,000.00 - Albuquerque Public Library Foundation - To fund afterschool STEM based classes and programs
$10,000.00 - Boys & Girls Clubs of Central NM - To fund a Do It Yourself STEM program at 5 locations
$5,000.00 - Explora Science Center & Children's Museum - To fund bringing hands on STEAM education to families in rural and tribal communities thoughout NM
$5,000.00 - Girl Scouts of NM Trails, Inc. - To fund bringing Girls in Robotics Leadership (GIRL) to girls' grades 4 to 8 in underserved areas
$10,000.00 - Hawks Aloft, Inc. - To fund delivering Living with the Landscape to Title 1 elementary schools in Albuquerque
$7,500.00 - Native American Community Academy Foundation - To fund a summer math program for middle school students using youcubed.org's proven curriculum
Belen
$7,500.00 - H2 Academic Solutions Scholarship Fund - To fund a 5 week STEAM summer camp for Valencia County middle school students
Deming
$10,400.00 - Asombro Institute for Science Education - To fund 5th grade Science Interns training so they can teach younger students at their school
Las Vegas
$10,000.00 - NMSU Foundation - To fund the expansion of its successful K-12 STEM education program by adding renewable energy curriculum
Placitas
$10,000.00 - AAUW Tech Trek NM - To fund a week long summer STEM camp for rising 8th grade girls
Rio Rancho
$5,000.00 - St. Felix Pantry - To fund educational services to many who are lacking basic computer skills
Santa Fe
$10,000.00 - Girls Inc. of Santa Fe - To fund expansion of the successful Operation SMART to an additional 150 girls
$10,000.00 - National Dance Institute of NM - To fund Access to Excellence which provides a 30 week in-school outreach program to 755 3rd-5th graders
$15,000.00 - Pueblo of Tesuque - To fund the Tewa STEM program to K-12 students in Tesuque and Santa Fe
Silver City
$9,265.00 - Aldo Leopold Charter School Foundation, Inc. - To fund a Mobile STREAM Lab for middle school students in Silver City
Tularosa
$5,000.00 - First Robotics NM Inc. - To fund the implementation of Demonstration Focused STEM in Tularosa
PNM Reduce Your Use Grants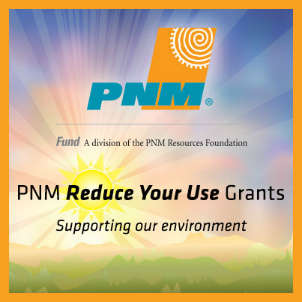 Finally, we plan to finish the year with the popular Reduce Your Use Grant. This grant will have a rolling application open September 13, 2019. Applications will close once all funds are distributed. Maximum grant amount is $5,000 per organization. Start planning now for the energy saving improvements your organization needs!
With this new approach, the PNM Resources Foundation asks that nonprofit organizations only submit one application for the grants for which they qualify. We ask that fiscal agents prescreen applications and submit no more than 3 grants as the sponsor.
If you have any questions, please don¿t hesitate to contact Kathleen Larese (director) kathleen.larese@pnmresources.com or Becky Teague (board president) becky.teague@pnmresources.com.
Thanks so much for what you do for our community! Keep up the great work!
Grant Proposals Requirements
In order to be considered, grant proposals must:
Describe the project, community need and transformation that will result from the project
Demonstrate collaboration and engagement of community members, volunteers, partners and stakeholders
Include measurable goals, a budget and a timeline
Include detailed plans for maintenance and sustainability
Describe how the PNM Fund will be recognized, including media and outreach plans.
Organizations must be inside the PNM service territory or communities where the company has business interests.
Ineligible Organizations
The following types of organizations cannot apply for a PNM Power Up Grant:
Sectarian or religious programs for religious purposes
Veterans, labor and political organizations or campaigns
Organizations that are not registered with the appropriate state registration agency (New Mexico Attorney General, IRS) or are not in good standing with the registration body
Organizations that limit membership and services based on race, religion, color, creed, sex, sexual orientation, age or national origin
Organizations without current or active IRS 501(c)(3) status
See examples of successful national community projects and get additional resources.