Energy Works - May 2023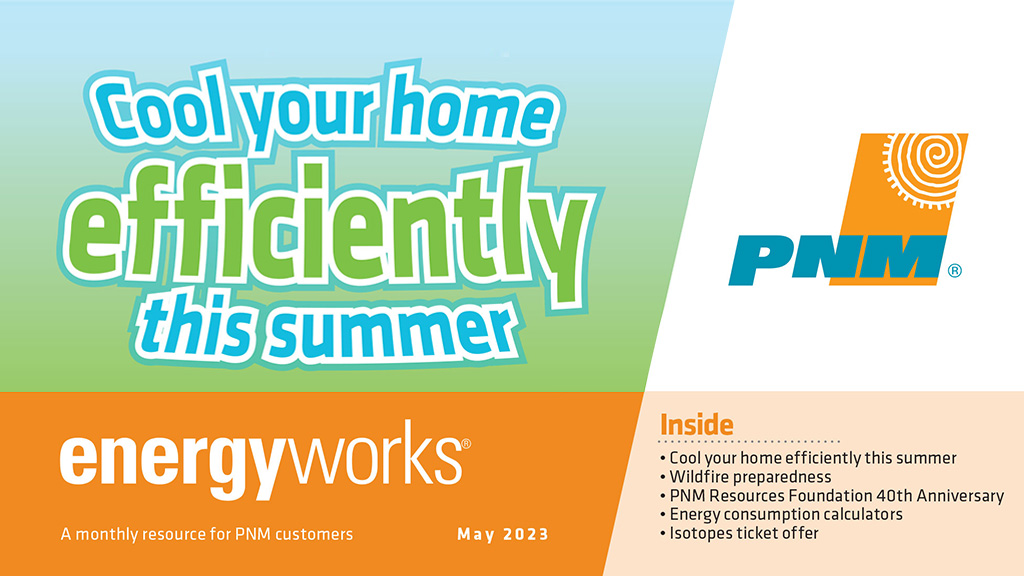 Cool your home efficiently this summer
Temperatures are rising. It's time to look at clever ways to keep your home cool and comfortable in an energy-efficient manner.
Use your ceiling fans to offset cooling costs.
Cooling your home with ceiling fans will allow you to raise your thermostat four degrees. In the summer, the blades should be turning counterclockwise, so air pushes downward, making the home feel cooler. This simple step can help circulate the cooler air in the room and save you money on your electric bill because your air conditioner doesn't have to work so hard to cool your home.
Air conditioner maintenance is a must.
Servicing your air conditioner by performing maintenance such as replacing, or cleaning air filters can lower your cooling system's energy consumption by up to 15 percent. Do this annually to ensure the system is performing optimally.
Use natural lighting.
If it's not in use, turn off the juice and use natural light as much as possible in the spring and summer months.
Crack the windows if you have an evaporative cooler.
When using evaporative (swamp) coolers, make sure to crack open some windows. The more humid the air in the house is, the less effective the evaporative cooler will be. Keeping a few windows cracked lets dry air in and damp air out. If you're looking to get a new air conditioner, check out PNM.com/coolrebate for information and rebates through the PNM Cooling program.
Seal those ducts.
Air loss through ducts can lead to high energy costs, accounting for nearly 30 percent of a cooling system's energy consumption. By sealing and insulating your ducts, you can lower your energy bills.
Install energy-efficient window treatments.
Energy-efficient window treatments or coverings such as blinds, shades, and films can help reduce the heat when temperatures rise. These window treatments can improve the look of your home and reduce your energy costs.
Set your thermostat as high as comfort permits.
Cooling your home can add 50 percent to your electric bill in the summer. The higher the setting, the more energy you'll save. Consider using a programmable thermostat to have it do all the work for you.
Looking for energy savings products or services? Check out CheckWithPNM.com to learn more.
Want more tips on how to save energy and money?
The PNM Resources Foundation turning 40 means a bigger boost for New Mexico!
Happy 40th anniversary to the PNM Resources Foundation. The foundation was formed back in 1983 and millions of dollars in grants supporting issues of importance to New Mexico have been awarded generously ever since. This year, ten nonprofits will receive a $40,000 grant for a total of $400,000. Another thirty nonprofits will receive grants totaling up to $150,000. Each nonprofit will be celebrated at the African American Performing Arts Center in Albuquerque in June. An Artrageous Artreach performance by summer campers in 4th through 8th grades will include a live arts installation performance piece that will be open to the community and live streamed. Additionally, the top 40 most active employee community volunteers will also be honored as part of the 40th anniversary celebrations this year.
Self-serve energy calculators
PNM recently created energy calculators to help you to find ways to save money and energy around your home.
Discovering what the costs and potential savings could be if you make changes to your energy usage has never been so easy.
Visit the energy calculators to learn where your energy dollars are going.
2023 Isotopes Ticket Offer Buy one get one FREE!*
You must sign up or create an account in order to purchase this offer online. This coupon is also redeemable at the Isotopes Park Box Office. Tickets must be purchased in multiples of two. Offer is subject to availability in Reserved Level seating and only valid for the specified dates. No upgrades. Schedule is subject to change.
Get a buy one get one FREE Isotopes ticket for the following games:
2023 Isotopes Games
Team
Date
Time
Tacoma Rainiers
Thursday, May 18
6:35 PM
Round Rock Express
Thursday, May 25
6:35 PM
Sugar Land Space Cowboys
Thursday, June 8
6:35 PM
Sacramento River Cats
Wednesday, July 26
6:35 PM
El Paso Chihuahuas
Thursday, August 17
6:35 PM
Reno Aces
Thursday, September 7
6:35 PM
Oklahoma City Dodgers
Wednesday, September 20
6:05 PM
Wildfire Preparedness
Dry weather creates a concern around the potential for wildfires. Reducing the chances for wildfires is an important effort, statewide, and PNM has some helpful tips to keep you and your family safe.
Help us reach you during an emergency. Make sure your contact information is current in your PNM account. Update your information in your PNM.com online account, call 888-DIAL-PNM, or chat live on PNM.com.
When planting new trees, be careful not to put them near power lines.
Clean up dried leaves and grasses that accumulate in your yard, and clear gutters and other places that may collect debris. They could catch fire and spread quickly.
Put together an emergency supply kit and have a family plan in case of an emergency. Ensure all people in your home have contact info for a common friend/relative outside the area in which you live. This contact can act as a focal point in case you get separated.
PNM takes wildfire mitigation seriously and we work to minimize the risk of wildfires. Safety is a priority and we work closely with first responders and forest management agencies to prevent and respond to wildfires. A comprehensive and detailed Wildfire Mitigation Plan was developed involving industry best practices with strategies addressing vegetation management, inspection and maintenance, system protection, design and construction, engineering and tech solutions, and operational practices. PNM has identified hazardous fire areas where it will prioritize inspection and enhance maintenance activities.
Sign up for emergency alert notifications and wildfire updates on NMFireInfo.com/information.