PNM Power Up Grants
Supporting vibrant communities throughout New Mexico
The PNM Resources Foundation is excited to support your endeavors through three competitive grant opportunities in 2019.
These grants will be focused on each of our three impact areas: education, economic vitality and environmental stewardship. Timing for these grants will be spaced throughout the year. See below for details on each grant opportunity.
PNM Reduce Your Use Grants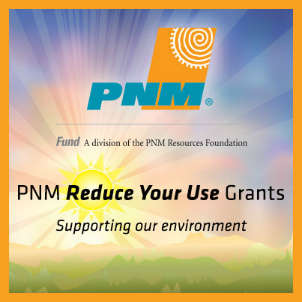 Finally, we plan to finish the year with the popular Reduce Your Use Grant. This grant will have a rolling application open September 13, 2019. Applications will close once all funds are distributed. Maximum grant amount is $5,000 per organization. Start planning now for the energy saving improvements your organization needs!
Apply online for a Reduce Your Use Grant Now
PNM Power Up Economic Vitality Grants

The Economic Vitality Grant application is now closed as of July 15, 2019. Each grant awarded up to $50,000 for programs that support creating and sustaining jobs in New Mexico, and job or skills training. The PNM Resources Foundation is proud to support so many organizations making a direct positive economic impact to the communities in which we live, work, and raise our families.
Congratulations to the following grant recipients:

Albuquerque Hispano Chamber of Commerce - $50,000. Grant to be used to help fund a technological platform to launch the self-sustaining ABQ Vet Connect Employer Coalition to address the critical employment and transition needs of our Veterans and their families.

Best Buddies New Mexico - $10,000. Grant to be used to help fund Best Buddies Jobs which provides pre-employment training, technology, and helps secure competitive paying jobs for adults 18 and older that have an intellectual disability.

CNM Ingenuity, Inc. - $25,000. Grant to be used to help fund a new flexible, part-time Deep Dive Coding boot camp which will train a more competitive workforce and connect people to high demand tech jobs.

Cultivating Coders, Inc - $25,000. Grant to be used to help fund "Teachers that Code" which is a cutting-edge technology training program that will develop a community of 2,000 skilled coders in New Mexico by 2023.

Encuentro - $25,000. Grant to be used to help fund a culturally accessible education and workforce skills training program for low income Spanish speaking adult Latino immigrants seeking income generating opportunities as small business owners.

Explora Science Center & Children's Museum of Albuquerque - $25,000. Grant to be used to help fund X Studio, a world class STEAM education and workforce development center which connects local teens and young adults with STEAM professionals and employers.

Fathers Building Futures - $25,000. Grant to be used to help provide job training, technology training, and financial education courses. All clients receive training on site for 90 days before being referred to local partners for temporary employment. The program uses a family-systems approach for 100% permanent employment. In conjunction with WESST, a three-year business model will make the wood shop 67% self-sustainable.

Keshet Dance Company - $25,000. Grant to be used to help fund a technology training program specific to film, media and the arts for youth and young adults preparing to enter the professional world of arts.

Partnership For Community Action - $40,000. Grant to be used to help fund Economic Equity and Opportunity Training to build economic opportunity, independence and prosperity for low income families with young children in the South Valley.

Prosperity Works (Three Sisters Kitchen) - $25,000. Grant to be used to help fund Three Sisters Kitchen Food Business Training program which provides access to the technology and commercial kitchen space for aspiring food entrepreneurs.

Rio Grande Community Development Corporation - $50,000. Grant to be used to enable collaborators to craft and implement a technical curriculum manual and teaching presentation materials for new cooperative development. This plan will transform entrepreneurship in the South Valley and International District. At least 40 RGCDC/IDED clients will receive cooperative technical assistance in the year following the funding.

Ronald McDonald House Charities of New Mexico - $20,000. Grant to be used to help fund technology initiatives as part of Albuquerque's second Ronald McDonald House, the first of its kind in the country.

Abrazos Family Support Services - $10,000. Grant to be used to help fund start-up costs of the ABA Workforce Development Program which will provide skills-based training, education, and certification for 50 new employees to become the Behavior Technicians.

New Mexico State University Foundation, Inc. - $50,000. Grant to be used to help fund Studio G, a statewide student business accelerator program helping to expand the capability and likelihood of young entrepreneurs to launch successful businesses and create jobs in these communities.

The Grants Collective - $45,000. Grant to be used to help fund training, provide in-person outreach and consultation, technical assistance on funding and help to develop new technology for San Juan area nonprofits.

Creative Startups - $25,000. Grant to be used to help fund the expansion of ¿Libraries as Launchpads¿ an entrepreneur-centric pre-accelerator program to 10 communities across New Mexico.

Western New Mexico University Foundation - $25,000. Grant to be used to help fund technology designed to assist community members to improve their understanding of how to complete online applications, resumes, and effectively job search.
PNM Power Up Education Grants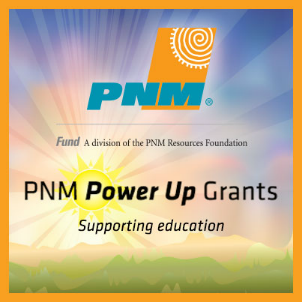 Congratulations to the following grant recipients:
Alamogordo
$10,000.00 - Imagination Library of Otero County - To fund purchasing books for over 1500 children registered in Dolly Partons Imagination Library Program
$5,000.00 - NMSU Foundation - To fund a STEM summer camp for middle school students in Alamogordo
Albuquerque
$6,000.00 - Albuquerque Public Library Foundation - To fund afterschool STEM based classes and programs
$10,000.00 - Boys & Girls Clubs of Central NM - To fund a Do It Yourself STEM program at 5 locations
$5,000.00 - Explora Science Center & Children's Museum - To fund bringing hands on STEAM education to families in rural and tribal communities thoughout NM
$5,000.00 - Girl Scouts of NM Trails, Inc. - To fund bringing Girls in Robotics Leadership (GIRL) to girls' grades 4 to 8 in underserved areas
$10,000.00 - Hawks Aloft, Inc. - To fund delivering Living with the Landscape to Title 1 elementary schools in Albuquerque
$7,500.00 - Native American Community Academy Foundation - To fund a summer math program for middle school students using youcubed.org's proven curriculum
Belen
$7,500.00 - H2 Academic Solutions Scholarship Fund - To fund a 5 week STEAM summer camp for Valencia County middle school students
Deming
$10,400.00 - Asombro Institute for Science Education - To fund 5th grade Science Interns training so they can teach younger students at their school
Las Vegas
$10,000.00 - NMSU Foundation - To fund the expansion of its successful K-12 STEM education program by adding renewable energy curriculum
Placitas
$10,000.00 - AAUW Tech Trek NM - To fund a week long summer STEM camp for rising 8th grade girls
Rio Rancho
$5,000.00 - St. Felix Pantry - To fund educational services to many who are lacking basic computer skills
Santa Fe
$10,000.00 - Girls Inc. of Santa Fe - To fund expansion of the successful Operation SMART to an additional 150 girls
$10,000.00 - National Dance Institute of NM - To fund Access to Excellence which provides a 30 week in-school outreach program to 755 3rd-5th graders
$15,000.00 - Pueblo of Tesuque - To fund the Tewa STEM program to K-12 students in Tesuque and Santa Fe
Silver City
$9,265.00 - Aldo Leopold Charter School Foundation, Inc. - To fund a Mobile STREAM Lab for middle school students in Silver City
Tularosa
$5,000.00 - First Robotics NM Inc. - To fund the implementation of Demonstration Focused STEM in Tularosa
With this new approach, the PNM Resources Foundation asks that nonprofit organizations only submit one application for the grants for which they qualify. We ask that fiscal agents prescreen applications and submit no more than 3 grants as the sponsor.
If you have any questions, please contact Kathleen Larese (director) kathleen.larese@pnmresources.com or Becky Teague (board president) becky.teague@pnmresources.com.
Thanks so much for what you do for our community! Keep up the great work!
Grant Proposals Requirements
In order to be considered, grant proposals must:
Describe the project, community need and transformation that will result from the project
Demonstrate collaboration and engagement of community members, volunteers, partners and stakeholders
Include measurable goals, a budget and a timeline
Include detailed plans for maintenance and sustainability
Describe how the PNM Fund will be recognized, including media and outreach plans.
Organizations must be inside the PNM service territory or communities where the company has business interests.
Ineligible Organizations
The following types of organizations cannot apply for a PNM Power Up Grant:
Sectarian or religious programs for religious purposes
Veterans, labor and political organizations or campaigns
Organizations that are not registered with the appropriate state registration agency (New Mexico Attorney General, IRS) or are not in good standing with the registration body
Organizations that limit membership and services based on race, religion, color, creed, sex, sexual orientation, age or national origin
Organizations without current or active IRS 501(c)(3) status
See examples of successful national community projects and get additional resources.