News Release
May 4, 2017
Tribal leaders, Navajo Technical University officials and PNM honor scholarship recipients
Students funded through $1 million PNM commitment
(Crownpoint, NM): Nearly 40 Navajo Technical University students enrolled in Trades and Technology, Energy, Engineering and Computer Science programs were awarded scholarships as part of the PNM-Navajo Nation Workforce Training Program during a reception on Wednesday.
Scholarship funding ranged from $300 to $2,000 and assists students who are working toward certificates, associate degrees and bachelor's degrees.
The Speaker of the 23rd Navajo Nation Council LoRenzo Bates, Navajo Technical University Dr. Elmer Guy and PNM Senior Vice President of Public Policy Ron Darnell recognized and honored this year's scholarship recipients.
"Education opens doors and improves the lives of families. It can lift individuals into rewarding careers, which benefits communities and helps make the world a better place," said Darnell. "Helping lay the foundation for a stronger New Mexico and Navajo Nation economy is important to us at PNM."
The PNM-Navajo Nation Workforce Training Program was established in 2013. PNM and the Navajo Nation joined forces with Navajo Technical University in Crownpoint, New Mexico, and San Juan College in Farmington, New Mexico, to develop and administer the program on behalf of PNM and the Navajo Nation. PNM is contributing $1 million, distributed $200,000 annually over five years to Navajo student scholarship recipients. Navajo Technical University receives $77,000; San Juan College $114,000; and PNM American Indian Engineering Program $10,000.
Since the program's inception, PNM has provided 206 scholarships to Navajo Technical University students alone. As a result, 47 have completed certificates, 30 have received associate degrees and 27 have earned bachelor's degrees.
The program is designed to ensure that New Mexico and the Four Corners area have the trained workforce needed for existing and emerging jobs, and that members of the Navajo Nation are well trained to fill these positions.
"These students are the future of energy in New Mexico," Bates said. "Four years ago, PNM approached the Navajo Nation with a great initiative to partner with regional colleges ¿ Navajo Technical University and San Juan College ¿ to prepare students for careers in the energy industry. I want to thank our partner PNM for standing by the Navajo Nation and helping our Navajo students prepare for jobs that will benefit our economic future."
"The partnership with PNM provides much needed financial assistance to Navajo Technical University students who might not otherwise be able to attend class," said Dr. Guy. "The program contributes significantly to growing our own valuable workforce of young professionals and encourages them in their future careers.
This year's PNM-Navajo Nation Workforce Training Program scholarship recipients include:

Clifford Allen Anfernee E. Kirk
Jeremy Begay Derrick Lee
Lacey C. Begay Corey Long
Sandoval Begay Adrian S. Malone
Udell A. Betone Gabriel J. Moone
Ramus R. Brown Leroy Muskett
Jayvion S. Chee Mike Nez
Teverrick V. Chee Darron C. Rafelito
Nicholas J. Clark Aldrian Ramone
Clinton O. Desiderio Lane J. Silversmith
Jarvis Draper Devina R. Tayah
Darian T. Edsitty Joshua L. Toddy
Duane M. Hanley Isaac S. Toledo
Geoffrey Harrison Aaron L. Tsosie
Pricilla L. Hobson Wacey C. Tsosie
Ivan W. Holiday Andrew Wauneka
Cornelia Kedelty Dexter D. Yazzie
Soshane G. Kee Norman T. Yazzie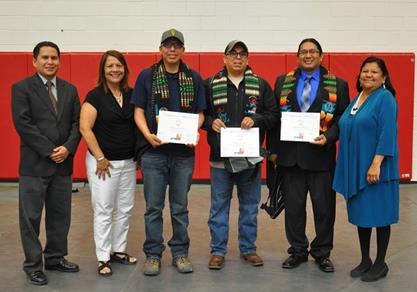 Students honored at Navajo Technical University receiving the PNM-Navajo Nation Workforce Training Scholarship.
With headquarters in Albuquerque, PNM is the largest electricity provider in New Mexico, serving more than 500,000 customers in dozens of communities across the state. PNM is a subsidiary of PNM Resources, an energy holding company also headquartered in Albuquerque. For more information, visit PNM.com.