Meter Reader Safety
Our team works hard to provide you with an accurate and timely utility bill. Providing this for you begins with being able to safely read your meter every month. We provide a bill for the actual amount of electricity you use. When we cannot read your meter, your usage that month is estimated. But regulations do not allow us to estimate your usage month after month, so we need your assistance in being able to provide regular readings.
Take a few minutes to look at the area around your meter and assure that the meter readers have safe and unobstructed access. The guidelines below will help you provide this safe access:
Locate your meter. Determine there is a safe and direct path to your meter that is free of obstructions such as debris, overgrown trees or bushes.
Ensure there are no holes or objects in the path to the meter that may cause the reader to trip, slip or fall.
Make sure your pets are secured where they cannot break loose and bite our meter reader.
If you do not think you can provide safe and reliable access to your meter every month, please call us at (888) DIAL-PNM (888-342-5766) or learn more about reading your own meter every month.
We Love Dogs, Too. Sometimes They Don't Love Our Team.
Safety is important to all of us, so after a PNM meter reader was bit by a dog after entering a property, we made changes to protect them and our customers' furry friends. Besides dog spray, meter readers are now carrying a dog barrier to keep dogs at bay. Holstered, it looks like an umbrella, but it's much more. When opened, the barrier creates a visual distraction that helps the meter reader get out of harm's way. It is a safe and effective way to keep a dog at a distance while also making sure you have dependable power and an accurate bill. If you have pets, you can help by bringing them inside the day your meter is read. Here's how to identify your meter read date.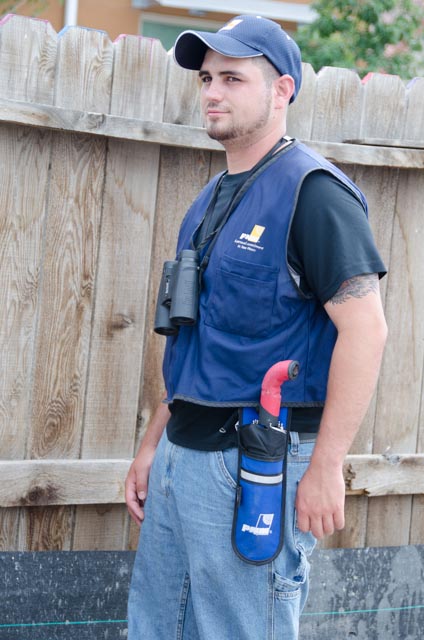 The photo on the left shows the dog barrier in a holder on the meter reader's waist. On the right, the dog barrier is open.
Recognizing a Meter Reader
Our meter readers always wear shirts with the PNM logo and a PNM badge is worn at all times. In colder weather, the PNM logo will either be visible on outerwear or on a vest that's worn over outerwear. If you see us at work in your neighborhood, and have a question, please talk to us.