Electric Vehicle Basics
Learn more about innovative and exciting Electric Vehicle (EV) technology.


Get the facts about electric vehicles here.

Checkout the EV discount PNM customers receive.
Talk to an EV driver and you'll likely hear them mention the "EV Grin." Get behind the wheel and take an EV for a spin and you'll instantly know what they're talking about. The EV grin comes from the experience electricity delivers: a smooth, quiet ride with powerful acceleration and torque, low lifetime maintenance and low, predictable fuel costs. Discover the other benefits of driving electric.
Conventional vehicles use an internal combustion engine that is usually fueled by gasoline or diesel. In comparison, an electric vehicle (EV) uses an electric motor for propulsion.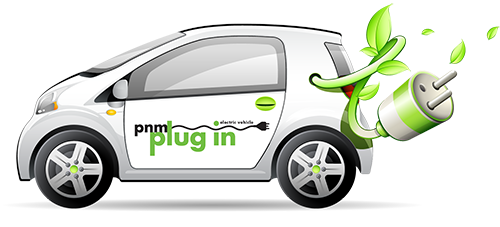 There are two basic types of EVs: all-electric vehicles (AEVs) and plug-in hybrid electric vehicles (PHEVs).
All-electric vehicles use a battery that powers the motor and must be plugged in to charge. Check out the discount we arranged specifically for PNM customers. It's thousands off the sticker price of a 2019 Nissan LEAF.
Plug-in hybrid electric vehicles are powered by an internal combustion engine that can run on conventional or alternative fuel and an electric motor that uses energy stored in a battery. This type of vehicle has gasoline as a back-up but can also be plugged into an electric power source to charge the battery.
Which type of vehicle is right for you depends on your needs and driving habits. Use this Department of Energy tool to determine which EV fits your needs.